Pumpkin Mac and Cheese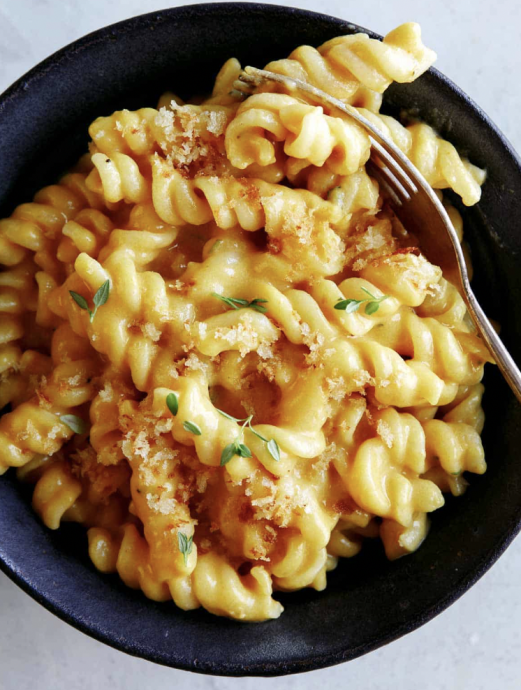 A delicious and creamy Pumpkin Mac and Cheese that's perfect for fall and winter. The yummy cheese sauce is super creamy and gooey. Make it in under 30 minutes for a simple weeknight meal!
The pasta can be boiled up to 5 days ahead of time. When ready to use, stir into hot cheese sauce and place over low heat until pasta warms through.
Freezing
While we think this dish is better when made fresh, you can freeze this dish for up to 3 months, in an airtight container. We recommend keeping the pasta and cheese sauce separate when freezing.
When ready to use, add frozen pasta to boiling water for 1 minute or until it has thawed and just heated through. Drain and set aside. Slightly thaw cheese sauce and pour into a saucepan. Heat over medium-low heat, stirring frequently. In a small bowl whisk 1 tablespoon cornstarch with 1 1/2 tablespoons milk. Once cheese sauce is simmering, whisk cornstarch slurring into sauce and continue to simmer until thickened. Season with salt and pepper and stir pasta into sauce.
Ingredients:
1 1/2 cups milk
1 cup pumpkin puree
12 ounces fusilli pasta can substitute other shaped pasta
3 tablespoons unsalted butter
3 1/2 tablespoons all purpose flour
1 ½ tablespoons minced thyme
4 ounces shredded sharp cheddar cheese
2 ounces shredded gouda
1/2 cup toasted panko
salt and pepper to tast