Rustic Potato Leek Soup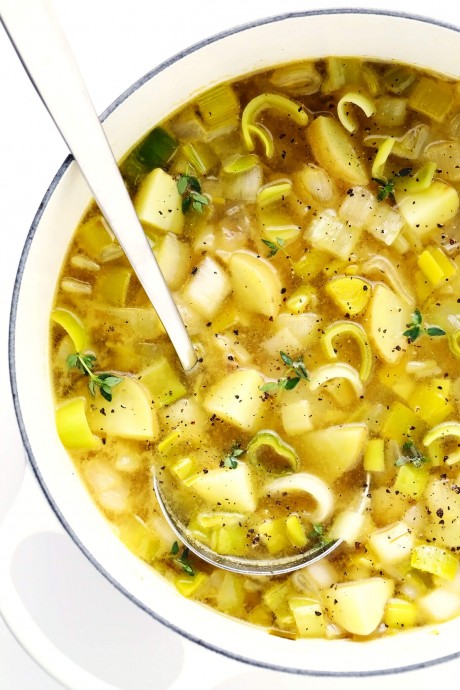 This Rustic Potato Leek Soup recipe is left nice and chunky (not puréed), it's naturally gluten-free and vegan (no cream), and made with a simple, light, garlic-herb broth. So cozy and delicious!
By contrast to traditional potato leek soup recipes — which are usually puréed and loaded up with tons of heavy cream — this more "rustic" version is left deliciously nice and chunky, which I love. It's also made with a light, herby, garlicky broth that tastes wonderfully flavorful on its own, without any need for cream. And when served with zesty homemade croutons or a good loaf of crusty bread, I'm telling you, this soup is the most wonderful wintertime comfort food.
The ingredient list is short and simple and can be customized with whatever fresh or dried herbs you happen to have on hand. It's also naturally gluten-free, vegetarian and vegan. (Although if you happen to eat dairy, we always love topping our bowls with some coarsely-grated Parmesan cheese.) And best of all, it can be ready to go in just a half hour or so, making it a great recipe for busy weeknights. We usually serve ours with a simple side salad and some crusty bread (or croutons) and the combo always feels perfectly light and cozy. So if you'd like to join the simple soup tradition, pick up some leeks and potatoes the next time you're at the market and let's make some rustic potato leek soup together!
Ingredients:
2 tablespoons olive oil (or butter)
1 medium white onion, peeled and diced
3 leeks, sliced into 1/2-inch half moons (white and light green parts only)
1 rib celery, thinly sliced
5 cloves garlic, minced
1/2 cup dry white wine
1 1/4 pounds Yukon Gold potatoes, cut into bite-sized chunks
6 cups vegetable stock
4 sprigs fresh thyme
2 bay leaves
1/4 teaspoon cayenne (or less, if you prefer)
fine sea salt and freshly-cracked black pepper
optional toppings: homemade croutons, grated Parmesan, chopped fresh chives