Cheesy Low-Carb Taco Casserole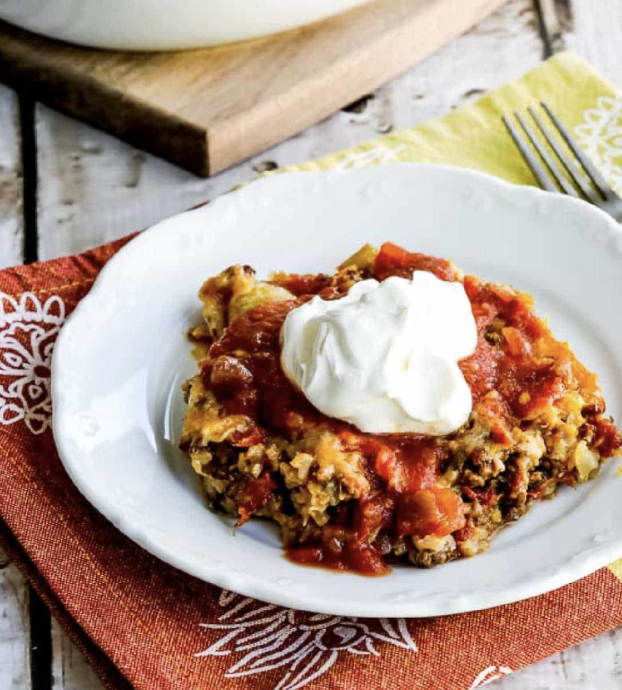 This Cheesy Low-Carb Taco Casserole has ground beef, onion, Ro-Tel tomatoes, cauliflower rice, taco seasoning, and of course lots of cheese. And this is a low-carb taco casserole recipe that's a hit with almost everyone who tries it.
What I love most about casseroles is the way you can cook once and then have leftovers for another meal or two to be reheated later or even frozen, and that makes casseroles like this perfect for Weekend Food Prep. Of course if you have a house full of teenage boys that might not work out as well; even the kids will eat this one and readers have reported that their kids didn't even notice there was cauliflower rice in this low-carb Taco Casserole!
Ingredients:
2 cans Ro-Tel Tomatoes with green chiles, mild ((10 oz. size can, see notes)
1 medium-large onion, chopped small
2 T olive oil, divided
1 lb. package fresh or frozen cauliflower rice
1/2 cup sliced green onion
1 lb. ground beef
1 T Kalyn's Taco Seasoning Mix (See note)
1 tsp. salt (or to taste)
3 cups cup grated Mexican Blend Cheese (Use less cheese if you prefer; we wanted it cheesy!)