Italian Kitchen: Eggplant, Mozzarella, and Dried Tomato Rolls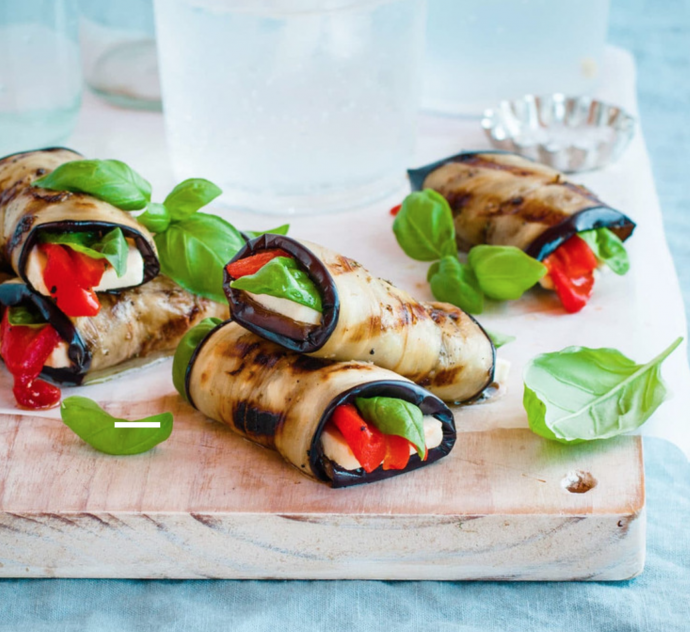 The Italian name of these savory bites "Antipasto Estivo" translates literally as 'summer antipasto", but I think it is more helpful — and tempting — to know what goes into them. The reason for the simple name is that in Italy they use mostly seasonal ingredients, and certain summer combinations are classic.
The components for this little antipasto can be prepared in advance and assembled at the last moment. It is served at room temperature, or the little rolls can be placed seam down in a lightly oiled ovenproof dish and baked in a moderate oven until they are heated through and the mozzarella is melted.
Ingredients
675 g of eggplants, preferably the long narrow kind, thinly sliced (The best eggplants to choose for this dish are firm, and no wider than 5 inches across. Choose eggplants without blemishes or bruising).
Salt (for preparing the eggplants)
Extra virgin olive oil
500 g yellow and red bell peppers
170 g fresh mozzarella cheese, cut into thin strips
Basil leaves or fresh oregano
Pitted black olives, Gaeta or oil-packed
150 g Dried tomatoes
Freshly ground black pepper
Directions
Step 1
First of all we should remove any bitter juices from the eggplants. Cut the eggplant into thin slices (approx. ½ cm). Layer the eggplant slices in a colander, salting each layer, and let stand for 1 hour. Rinse the eggplant thoroughly in cold water and pat dry on paper towels. If grilling, paint them sparingly with extra virgin olive oil. Salt lightly and set aside on paper towels after grilling or frying.
Step 2
Roast the peppers in a 400°F oven until the skins are blackened, turning once, about 40 minutes in all. Remove the peppers from the oven and wrap them in foil until they are cool enough to handle. Seed and skin the peppers and cut them into thin strips.
Step 3
Lay the eggplant strips out on a work surface and set a strip of pepper on each. Then layer on a strip of mozzarella, dried tomato strip, a leaf of basil or a pinch of oregano, and an olive half. Salt lightly and season with pepper to taste. Roll up carefully and fasten each roll with a toothpick.
Serve with a mixed green salad and crusty Italian bread.
Be careful and do not put too much salt, as the eggplants tend to absorb it fast, and the dish may appear to be oversalted. The less the better is the rule here.
If you don't have mozzarella cheese around, you can use ricotta cheese, parmesan, or Pecorino Romano. All the variations are delicious!
Buon Appetito!