Crockpot Potato Soup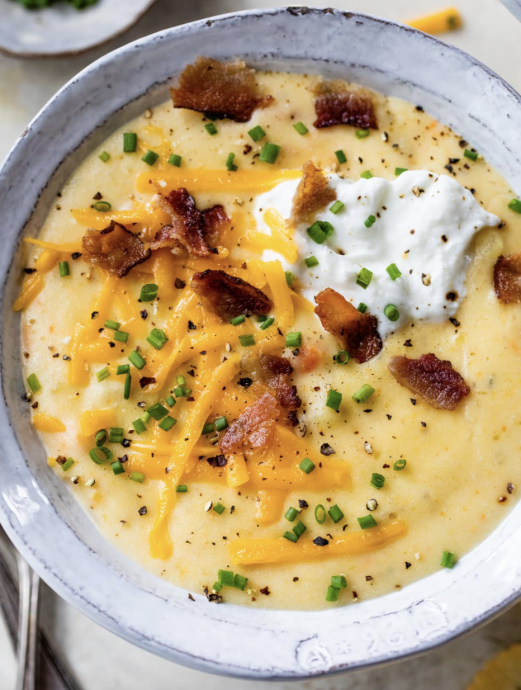 Some recipes just hit the spot every single time. For me, this Crockpot Potato Soup is forever a winner! It boasts the all-American taste that you crave in a typical potato soup, but this lightened-up version is so much better for you.
This recipe only takes 15 minutes to prep (!!), and then it lets the slow cooker do the work.
This crockpot loaded potato soup gets its creamy texture from Yukon gold potatoes and cheesy flavor from delicious sharp cheddar cheese.
It's deeply rewarding to come home to this soup at the end of a long day.
Ingredients:
2 tablespoons unsalted butter*
1 small yellow onion diced
3 large carrots scrubbed and diced
2 pounds Yukon gold potatoes peeled and cut into 1/2-inch chunks
1 teaspoon Italian seasoning
1 teaspoon kosher salt plus additional to taste
1/4 teaspoon cayenne pepper
3–4 cups reduced-sodium chicken broth (or vegetable broth for a vegetarian soup)
1 can 2% evaporated milk (12-ounces)
3 tablespoons cornstarch
1 cup shredded sharp cheddar cheese plus additional for serving
1 cup nonfat plain Greek yogurt plus additional for serving
For Topping:
Cooked crumbled bacon (optional)
Chopped fresh chives (optional)