Vegan Veggie Tortellini Soup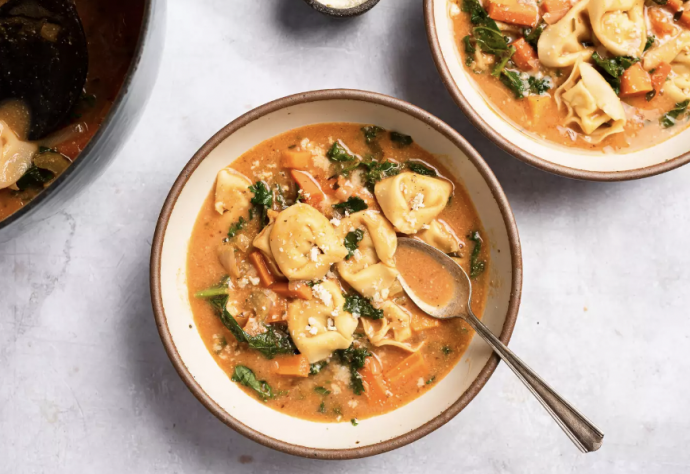 Tortellini soup has always been one of my favorite recipes to make during the colder months. It's filling, it's typically pretty healthy depending on what you add, and it's a crowd pleaser which is always a plus. It's often made with a flavorful tomato-based broth, tortellini, kale, sometimes sausage and an additional veggie, a generous pour of cream, and Parmesan.
This vegan tortellini vegetable soup uses Kite-Hill's Dairy-Free Ricotta or Spinach Tortellini, which if you haven't had it before, is easy to love whether you're vegan or not. And because I adore a creamy aspect to–let's face it, just about any recipe–I couldn't resist adding a swirl of cashew cream at the end.
Ingredients:
1 tablespoon olive oil
1 tablespoon vegan butter, optional
1 medium yellow onion, coarsely chopped
Fine salt, to taste
2 cups diced carrots, about 1-inch pieces
1 medium sweet potato, peeled and diced
1/2 cup thinly sliced celery
3 cloves garlic, finely chopped
2 tablespoons finely chopped fresh thyme leaves
2 tablespoons finely chopped fresh basil
2 tablespoons finely chopped fresh rosemary leaves
1 teaspoon dried oregano
1/2 cup dry white wine
3 tablespoons tomato paste
6 cups vegetable broth
1 (9-ounce) package vegan tortellini, such as Kite Hill brand
4 cups coarsely chopped kale
3 to 4 tablespoons cashew cream, optional
Freshly ground black pepper, to taste
Dairy-free Parmesan cheese, optional