Buffalo Chicken Dip Bites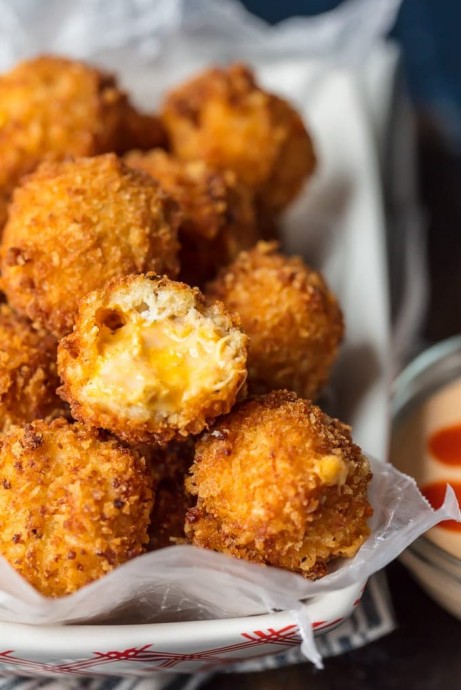 Buffalo chicken dip bites are amazing! Deep fried balls of cheesy buffalo ranch chicken dip rolled twice in breading and deep fried to pop-able perfection. This is one of our favorite game day recipes for tailgating. Bring on the Buffalo Chicken Bites for Super Bowl or for any time you need a delicious and unique appetizer! These Buffalo Chicken Dip Bites are right up my alley.
Buffalo Chicken Dip Bites were inspired by Mozzarella Sticks. I saw Buffalo Chicken Mozzarella Sticks on a FB Tasty video and knew I had to try my hand. I just had to. Mom and I got together and tested out the recipe and these delicious bites were born. We found the sticks to be too big and even after frying still had a frozen center. Amazing idea but it didn't quite translate into perfection.
Making these buffalo chicken bites smaller and adding a double batter made them one of the most epic tailgating recipes we have made to date! Crispy outside, molten cheesy inside, buffalo chicken dip and mozzarella stick in one! Obsessed. Sure, these are filled with dip, but that doesn't mean you don't need some sauce to dip them in! Here are some favorites: Honey Mustard, Nacho Cheese Sauce, Homemade Ranch. Each and every good tailgate party needs these Fried Buffalo Chicken Dip Bites. They're just the right size, perfect when dipped in creamy ranch, and right up my alley. Which I hope means you will love them as much as I do.
Ingredients:
4 ounces cream cheese softened
1 cup shredded chicken
¼ cup buffalo sauce
1 cup shredded mozzarella cheese
½ cup shredded cheddar cheese
¼ ¼ ounce packet dry Ranch dressing mix
1 cup all-purpose flour
4 eggs beaten
¼ cup milk
2-4 cups seasoned panko breadcrumbs
Canola oil for frying