Philly Cheesesteak Sliders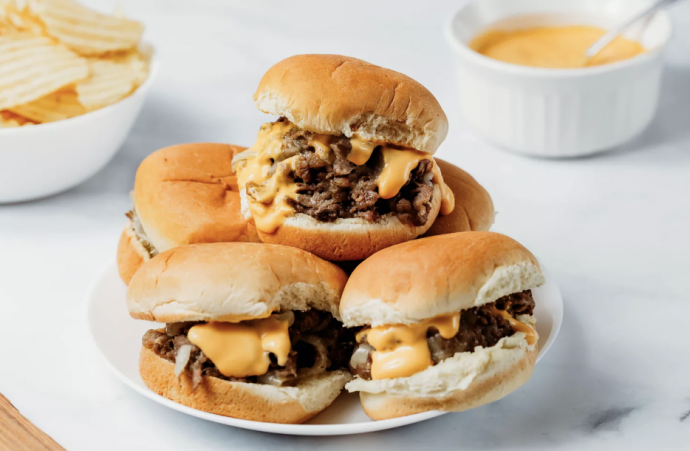 Cheesesteak sliders present both an opportunity and a challenge. The opportunity lies in their excellence as smaller versions of a beloved sandwich, a shareable and fun food. You can fix up a great big pan of steak and cheese, drop it on some buns, and you're all done.
The challenge, however, lies in making them authentic enough to earn the Philly moniker. The right kind of thinly-sliced steak (usually ribeye) and cheese (typically Cheez Whiz or provolone), you see, is not enough. True Philly cheesesteaks are served on fresh Italian-style rolls. These rolls are made from lean dough, which eschews rich ingredients such as butter, milk, eggs, and sugar, the very things that many hamburger and slider buns rely on for their soft texture and tender crumb.
The best place to find ingredients for Philly cheesesteak sliders that fit the bill is an Asian market. While they might not carry the provolone or the whiz, they often have a great selection of thinly sliced cuts of beef such as ribeye, New York strip, and sirloin, which are normally destined for things such as Korean barbecue and shabu-shabu. Asian markets also usually carry an array of slider-sized rolls. For the most authentic Philly taste, look for bread that's low in fat and sugar.
Ingredients
4 tablespoons oil or butter, divided
1 small onion, sliced into half-moons
1 cup sliced mushrooms
2 pounds steak, thinly sliced (such as ribeye)
8 slices provolone cheese
8 slider buns
cheese sauce, optional