Spinach Dip Christmas Bread Tree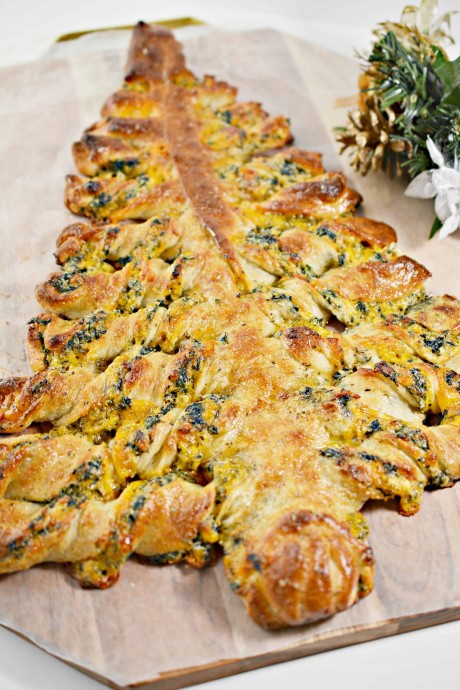 Christmas is right around the corner. If you are looking for an appetizer that is perfect for the holidays you need this Spinach Dip Christmas Bread Tree. This spinach dip tree is perfect for get-togethers this holiday season. One of my favorite things to make for a get together or party is spinach dip. Normally when people make spinach dip, it is served with bread, either in a bread bowl or in a bowl with bread on the side. In this recipe, which is perfect for a Christmas Party Food, the bread is shaped as a tree with the spinach dip inside.
For this recipe, I recommend using Pizza dough. I like using the pizza dough because it is ready to use, and it is already rolled thin. If you prefer to make your own bread dough or want to buy premade bread dough, you can certainly use that instead. The only thing that makes bread dough different from pizza dough is that bread dough is designed to have more gluten. Since this spinach dip is made slightly different, the spinach dip Christmas Tree will come out ok. The best way to eat the Christmas Tree Bread is to reheat it in the oven. This will warm it while drying up the dip.
Ingredients:
1 Tube Pillsbury Thin Crust Pizza Dough
6 oz. Cream cheese softened
12 oz Frozen spinach thawed and drained of water
¼ tsp Pepper
½ tsp Salt
2 Cloves minced garlic
¼ tsp Chili powder
½ tsp Onion Powder
1 tsp Italian seasoning
1 c Cheddar cheese
½ c Parmesan cheese grated
2 tbsp Butter melted
½ tsp Garlic powder
½ tsp Italian seasoning