Bananas Foster French Toast Breakfast Casserole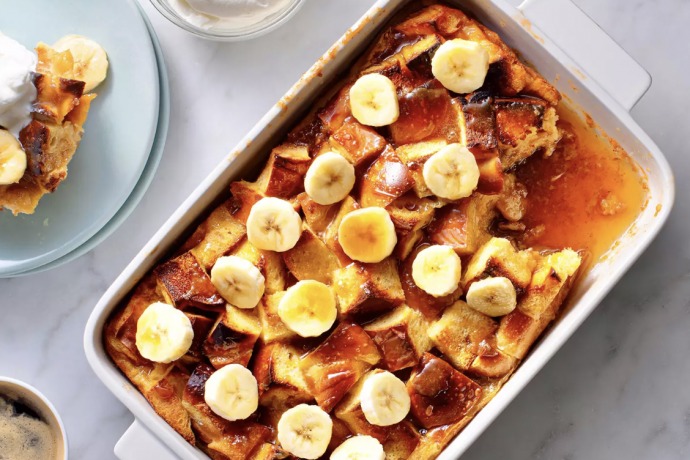 Bananas Foster is an epic dessert from New Orleans. Usually served via table-side flambé and completed with a generous helping of ice cream, it is a decadent and richly flavored course normally reserved for special occasions. But not to worry; we've created a French toast breakfast casserole version that you can easily make at home.
With all of the same amazing flavors of the traditional fancy dessert but geared toward breakfast, this casserole dish is an excellent option for a weekend brunch or the holidays. Just throw this recipe together the night before and pop it in the oven on Christmas morning, and you'll have a delicious and warm breakfast for everyone to enjoy while opening gifts.
If you want extra caramel syrup for serving, just double the recipe and save half for drizzling the next day. Alternatively, you can make extra caramel syrup the day you serve the casserole.
Ingredients
For the Caramel Syrup:
6 tablespoons (3-ounces) unsalted butter
1 cup lightly packed brown sugar
2 tablespoons corn syrup
1 teaspoon pure vanilla extract
1/4 teaspoon ground cinnamon
For the French Toast:
2 medium ripe bananas, thinly sliced, more for serving
1/4 cup dark rum, optional
1 loaf challah bread, or other rich or eggy bread, cut into cubes
8 large eggs
1 1/2 cups milk
2/3 cup granulated sugar
2 tablespoons unsalted butter, melted
1 1/2 teaspoons pure vanilla extract
Pinch salt
Whipped cream, for serving