Toffee Apple Crumble Layer Cake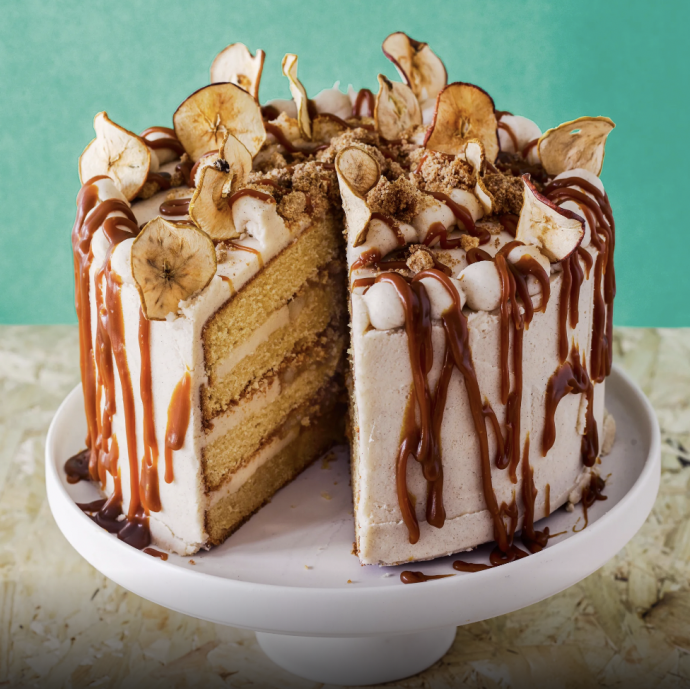 I love this toffee apple crumble recipe made by Great British Bake Off contestant Liam Charles.
Talking about the recipe he said: "It is pretty evident I am obsessed with apple crumble. This cake has four layers of light brown sugar sponges, apple compote filling, and squiggles of salted caramel. And a few clusters of crumble, you know, for texture, as they say."
Ingredients:
For the Sponge
1lb 10oz Unsalted butter (softened)
1lb 5oz Billington's Unrefined Golden Caster Sugar
5oz Billington's Unrefined Light Muscovado Sugar
12 Free range large eggs
1lb 10oz Self Raising Flour
0.5 tsp Baking powder
6fl oz Whole milk
0.5 tsp Nielsen-Massey Vanilla Extract
For the Crumble
8oz Allinson's Plain White Flour
5oz Billington's unrefined soft brown sugar
1 tsp Sea salt
5oz Unsalted butter (cold & cubed)
For the Cinnamon Buttercream
1lb 16oz Unsalted butter (softened)
4lb 5oz Silver Spoon Icing Sugar
2 tsp Ground cinnamon
6fl oz Whole milk
1.5 tsp Nielsen-Massey Vanilla Extract
For the Filling & Topping
1 jar Apple sauce
11fl oz Salted caramel
10 Apple crisps (optional)