Passionfruit Pound Cake Muffins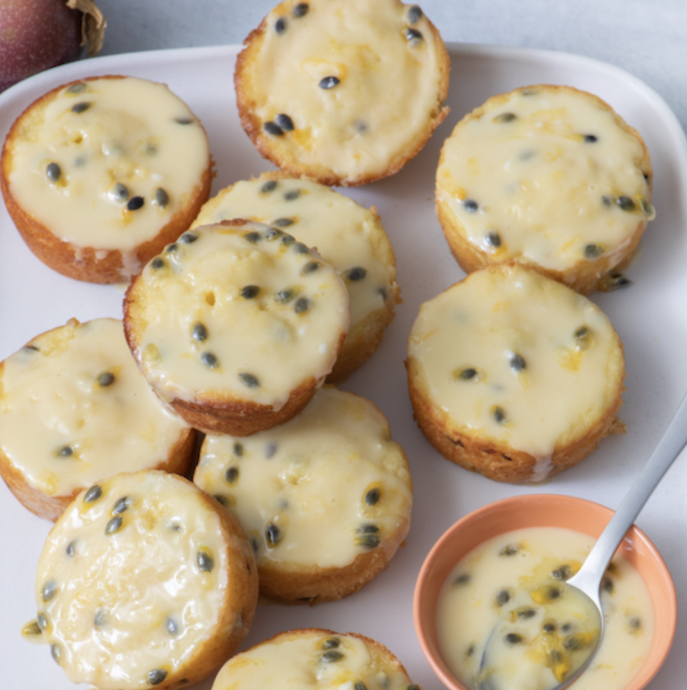 My love of passionfruit knows no bounds! These Passionfruit Pound Cake Muffins are my new favorite recipe using one of the best fruits around!
Our passionfruit vine this summer has been going crazy! We have to watch our heads on our walk from the car to our house because these beautiful fruits have been dropping like grenades the past few months. We have so many every day, I knew I had to come up with more passionfruit recipes to keep up with my vine and these Passionfruit Pound Cake Muffins are my current go-to.
While these muffins are technically a dessert, passionfruit have tons of health benefits on their own. They're full of antioxidants and provides key nutrients like vitamin A which is great for skin and vision health and immune support. I love adding passionfruit to yogurt with Super Healthy Granola or as a tart topping on Acai Bowls. Plus, when I have a ton of extras I can freeze the pulp and seeds in an ice tray to have them ready to go for blending into smoothies.
Ingredients:
For the Pound Cake Muffins:
1 3/4 cup all purpose flour
1 teaspoon baking powder
1/2 teaspoon baking soda
1/2 teaspoon salt
1 cup unsalted butter, softened
1 cup sugar
3 large eggs
1 teaspoon vanilla extract
1/2 cup (about 8) passionfruit, cut in half using the pulp and seeds
1/2 cup full fat Greek yogurt
For the Glaze:
3 tablespoons (about 2) passionfruit, cut in half using the pulp and seeds
1 cup powdered sugar
milk of choice (as needed to get desired consistency)