Ultimate Green Bean Casserole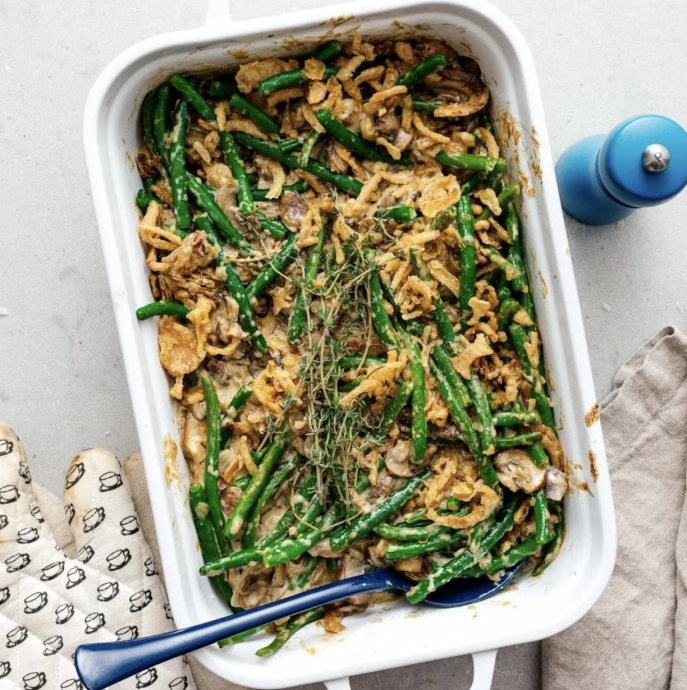 A super mushroom-y, totally from scratch update to the best vegetable dish ever invented in America in the 50s. This is a modernized, updated, scratch version with nary a canned or processed ingredient in sight, except for the fried onions.
This version is more mushroom-y, more flavorful, and only about 10 minutes of extra work. It's enhanced with the combined umami powers of caramelized onions, double the mushrooms, soy sauce, fish sauce, and parmigiano-reggiano cheese. I think you'll love it so much more than the classic canned soup version.
Ingredients:
4 tbsp butter or olive oil, or mix of the two
4 cloves garlic crushed
1/2 medium onion sliced
1 lb mushrooms pre-sliced cremini preferred
4-8 sprigs thyme or other herbs
2 tbsp all purpose flour
3/4 cup white wine or beef/chicken/vegetable stock
1 cup heavy cream
0.5-1 cup milk optional, see notes
1 tbsp dark mushroom soy sauce or regular soy sauce
1 tsp fish sauce optional
1/2 cup french fried onions
Assembly
1.5 lb green beans ends trimmed
1/2 cup Parmigiano Reggiano cheese or Cheddar
1 cup french fried onions or more, to finish