Easy Firecracker Shrimp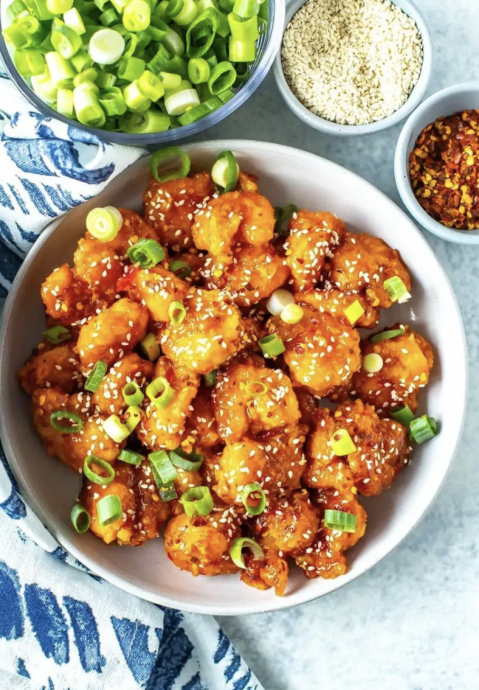 This Easy Firecracker Shrimp is sweet, sticky, spicy and crunchy – it's a perfect appetizer or main dish when served with broccoli and rice.
Taking this dish from an appetizer to a full meal is as simple as adding a healthy grain and veggies. Any of these would be great alongside firecracker shrimp:
Steamed brown or white rice
Rice pilaf or risotto
Cauliflower fried rice
Baked potato or sweet potato
Steamed veggies
To reduce the calories in this dish, you can skip the breading altogether, and simply grill the shrimp on the BBQ. This way, there will be fewer calories and less carbs! You can still serve the shrimp with the sweet and spicy firecracker sauce. To grill the shrimp, place them on wooden or metal skewers. Preheat your grill to 400° Fahrenheit, then grill the shrimp for 2 minutes per side.
Ingredients:
1/4 cup canola oil
1 lb shrimp
1 cup flour
2 eggs
Salt & pepper, to taste
Chili flakes, for garnish
Sesame seeds, for garnish
Green onions, for garnish
Sauce
1/4 cup sweet chili sauce
2 tbsp orange juice
2 tbsp soy sauce
1 tbsp sriracha
2 cloves garlic, minced
1 tsp orange zest