Cheesy Garlic Biscuits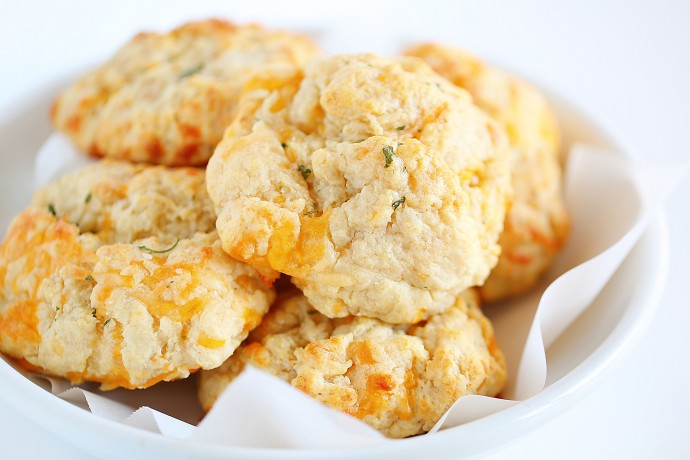 These biscuits could not be easier. Quite possibly the easiest biscuit I have ever made! There is a trick to really replicating the beauty of those famous biscuits and that is not to overbake them. Keep a close eye on your biscuits when they are in the oven. The second they start to gently brown around the edges take them out! Over baking could mean a more dense biscuit.
I recommend getting the biscuits in the oven as soon as possible after dropping them on the baking sheet. After making multiple batches I saw that the biscuits that sat and waited for the oven did not plump up as high as the first batch.
A sharp cheddar cheese for these biscuits is perfect, but I did leave mild cheddar in the recipe. The sharp does give the biscuits a distinctively different flavor and is worth trying if you love cheese! I do have to mention, when I tried 'organic aged white cheddar cheese', it did not melt as well and was not as pretty as the orange cheddars, but it does taste amazing. Also, do not skimp on the salted butter bath at the end~ these fresh, hot Red Lobster biscuits literally soak up all that amazing salty butter and it truly makes it perfect!
Ingredients:
3/4 cup (170g) butter, divided
2 cups (250g) all-purpose flour
1 tbsp. granulated sugar
1 tbsp. baking powder
1 tbsp. garlic powder
2 tsp. kosher salt, divided
1 cup (245g) whole milk
2 cups (8ounces, 230g) mild cheddar cheese
½ teaspoon dried parsley