Vegetarian Crunchwrap Supreme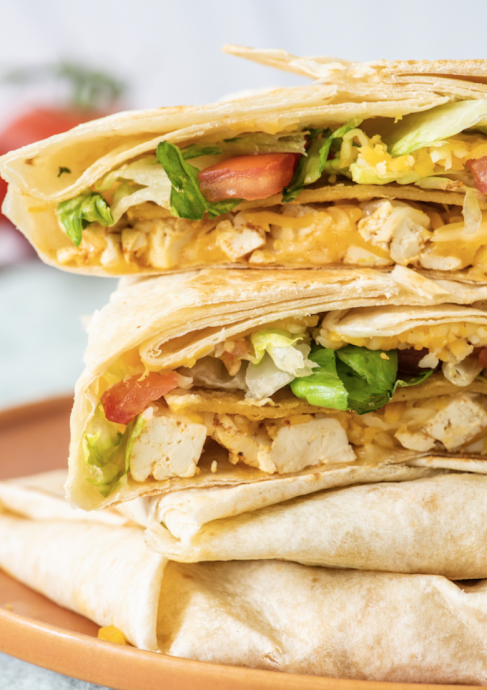 This Vegetarian Crunchwrap Supreme is my son Kenya's creation, and it's super delicious! It's way better (and healthier) than anything you'll get at a fast food chain.
When I think of healthy meals for my family, fast food is very low down on the list, but this homemade Vegetarian Crunchwrap Supreme that Kenya came up with is a great, healthy version of a fast food favorite. It's filled with veggies and tofu, wrapped up and pressed together to make a crispy, flavorful Mexican-inspired entree. Can you believe my kids are developing recipes of their own now? It blows my mind!
This recipe is great for kids because it's fun and easy to eat since it's hand held! Mine all love to assemble their own personal Crunchwrap so they can have their favorite veggies wrapped inside. Getting them involved is a great way for them to have a sense of ownership over the food they eat. They're more likely to try new things!
Ingredients:
4 ounces extra firm tofu, make sure to drain all the water off and squeeze to remove
5 tablespoons olive oil
2 teaspoons taco seasoning
1/2 teaspoon kosher salt
1 small corn or flour tortilla
1 large flour tortilla
3/4 cup Mexican shredded cheese or mix of Monterrey Jack, mozzarella and cheddar or favorite vegan cheese (if you want to make the recipe vegan)
1/2 cup shredded lettuce
1 small tomato, seeded and diced
Dipping Sauce:
1/4 cup sour cream (or dairy free sour cream for vegan option)
1 tablespoon mayonnaise (or vegan mayonnaise)
1 tablespoon hot sauce (optional)
1 teaspoon garlic powder
1 teaspoon Spanish sweet paprika
juice from 1/2 lemon
1/4 teaspoon salt