Easy Chicken Shawarma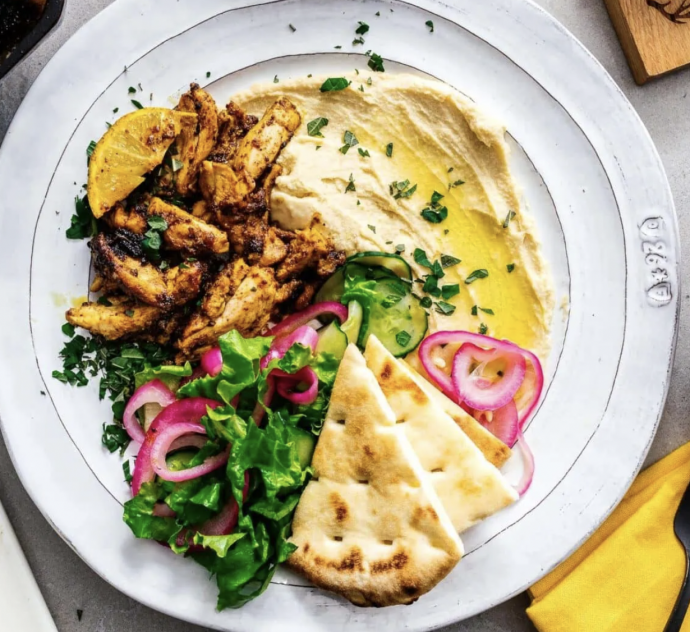 This chicken shawarma is going to blow you away. Pantry spices + chicken = magic!
Shawarma is all the good things: crispy charred spiced meat wrapped up in a fluffy pita with fresh lettuce, juicy tomatoes, and crunchy cucumbers. It's one of the best combinations on earth, especially at 2 in the morning. Heck, it's one of the best combinations at any time of the day really. There's a reason why humans have been grilling meat since the beginning of time and the deliciousness of shawarma is one of them.
Ingredients:
2 lb boneless skinless chicken thighs
3 tbsp extra virgin olive oil
1/2 lemon juice only
Shawarma Spice Mix
2 tsp ground cumin
2 tsp smoked paprika
2 tsp garlic powder
1 tsp ground coriander
1 tsp ground cardamom
1 tsp ground ginger
1/2 tsp ground turmeric
1/2 tsp ground aleppo pepper optional
1/4 tsp ground cinnamon
1/4 tsp ground cloves
Shawarma Sauce
3/4 cups greek yogurt
4 cloves garlic crushed
2 tbsp tahini
2 tbsp lemon juice
salt and freshly ground pepper to taste
Assembly
2 cups romain
1 cups tomato cubed, tomatoes of choice
1 cucumber sliced, optionally salted
1/2 red onion sliced, optionally pickled
4-8 fresh pita