Vegan Banana Nut Scones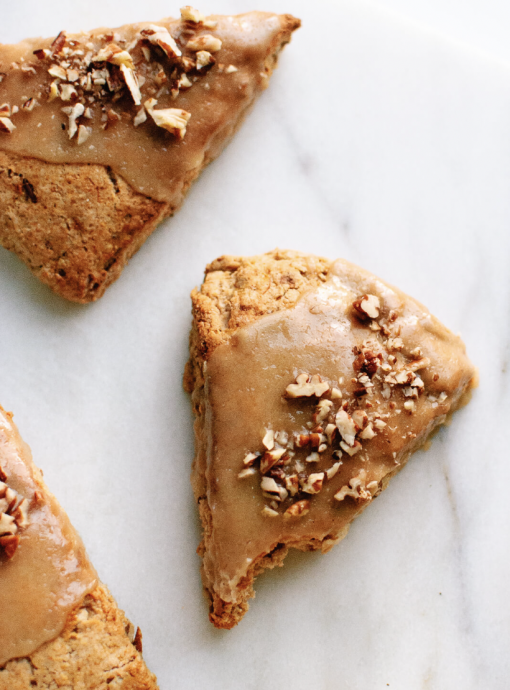 Today is just not my day. It's one of those days when every earnest attempt at productivity is slowed by unforeseen circumstances. Like, my dog ate my lunch. My sidebar doesn't look right. And I need to hurry to the post office so I can mail my life savings to Uncle Sam. So it goes.
If these scones look familiar, it's because they are a riff on last fall's pumpkin pecan scones. Those scones have quite a few fans and the banana version turned out so well that I couldn't keep it to myself. Frankly, I don't think banana scones get better than this.
Ingredients:
Scones
1 cup raw pecans or walnuts
2 cups white whole wheat flour or regular whole wheat flour
1 tablespoon baking powder
1 teaspoon cinnamon
½ teaspoon ground ginger
½ teaspoon salt
⅓ cup solid coconut oil or 5 tablespoons cold butter
¾ cup mashed ripe banana (about 2 medium bananas)
¼ cup milk of choice (almond milk, low fat milk, etc.)
2 tablespoons maple syrup or honey
½ teaspoon vanilla extract
Maple glaze
1 cup powdered sugar*
⅛ teaspoon fine grain sea salt
1 tablespoon melted coconut oil or butter
½ teaspoon vanilla
¼ cup maple syrup, add more if needed