Pork Tenderloin Medallions with Mushroom Marsala Sauce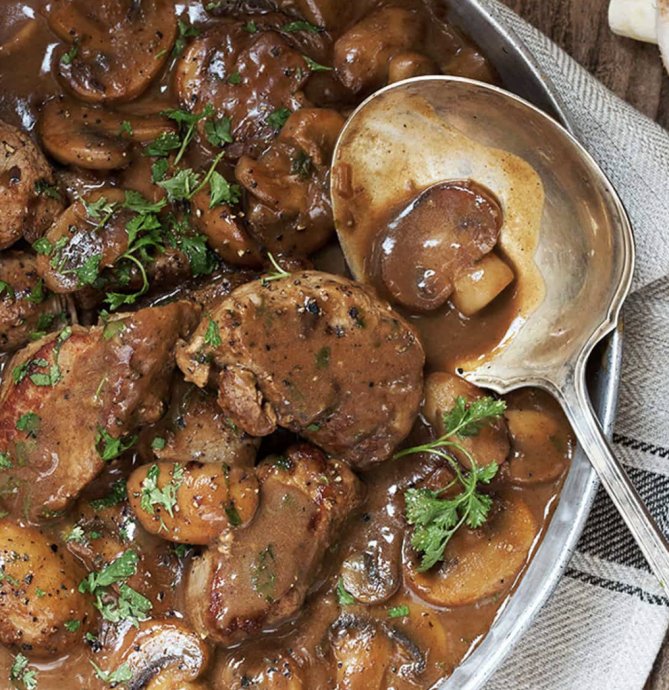 Pork Tenderloin, cut into medallions and cooked with a mushroom marsala pan sauce. This is both a quick and easy dish for weeknight meals and a great dish for entertaining that cooks up quickly.
This delicious recipe is one of my favourite ways to enjoy pork tenderloin! The fact that it is quick, easy and delicious is just a big bonus! And while this dish is quick and easy for a weeknight meal, it's also special enough for entertaining, which is always good.
I love to cook with pork tenderloin, as it is lean, cooks quickly and is always tender. The quick and easy mushroom sauce is flavoured with Marsala wine, that has such a delicious and distinct flavour and pairs perfectly with mushrooms.
This delicious pork tenderloin cooks up entirely on the stovetop in a hot skillet and is ready is just 20 minutes!
Ingredients:
2 lb (900 g) pork tenderloin, (about 2 small or one large tenderloins)
Kosher salt and freshly ground black pepper
3 Tbsp extra-virgin olive oil
1 Tbsp unsalted butter
2 Tbsp butter
2 medium shallots, finely diced (can substitute red onion)
12 oz (340 g) cremini mushrooms, thinly sliced (or regular button mushrooms)
1 Tbsp all-purpose flour
1/2 cup (120 ml) dry Marsala wine, not sweet Marsala (look for Dry on the label)
1 cup (240 ml) chicken broth
3 Tbsp heavy cream
1/4 cup chopped fresh flat-leaf parsley, plus more for garnish