Apple Cinnamon Skillet Cookie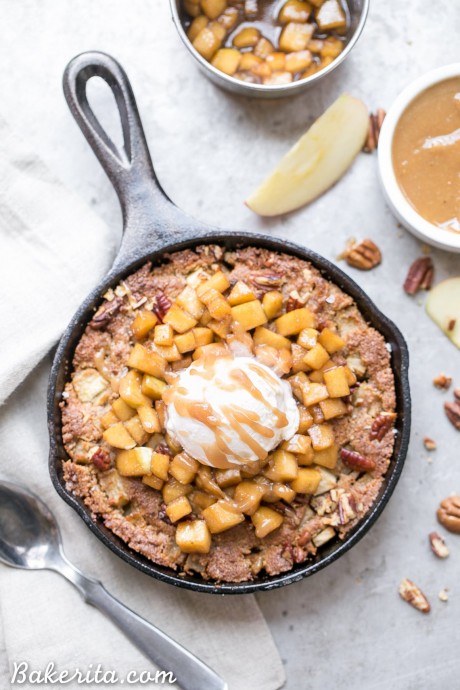 This Apple Cinnamon Skillet Cookie is a deep-dish cookie that's loaded with fresh diced apples and warm fall spices! This gluten-free, refined sugar-free, and Paleo-friendly skillet cookie is topped with caramelized apples.
Those cookies are so good, with a crispy outside and a gooey inside. Diced apples are folded into the dough, and the apples bake down into the cookie, adding some extra moisture to keep the big cookie extra soft and gooey. Cinnamon and nutmeg are also in there, adding the warmth of fall and making your house smell like heaven as this bakes.
I also tossed in some pecans because I can't resist the added crunch. Of course, once your skillet cookie is baked, you can go at it right then and there. OR, while it's baking, you can sauté up some apples in coconut oil, a little coconut sugar, and cinnamon. The apples get tender and create a light caramel sauce that's absolutely irresistible. Perfect winter treat!
Ingredients:
¼ cup coconut oil solid at room temperature (should be the same consistency as softened butter)
⅓ cup coconut sugar
1 egg yolk room temperature
1 teaspoon vanilla extract
¼ teaspoon baking soda
¼ teaspoon salt
1 teaspoon cinnamon
¼ teaspoon grated nutmeg
1 cup (96g) blanched almond flour
1 apple peeled and diced
⅓ cup pecans toasted and roughly chopped
1 tablespoon coconut oil
2 tablespoons coconut sugar
¼ teaspoon cinnamon
1 apple peeled and diced