Lemon Berry Yogurt Cake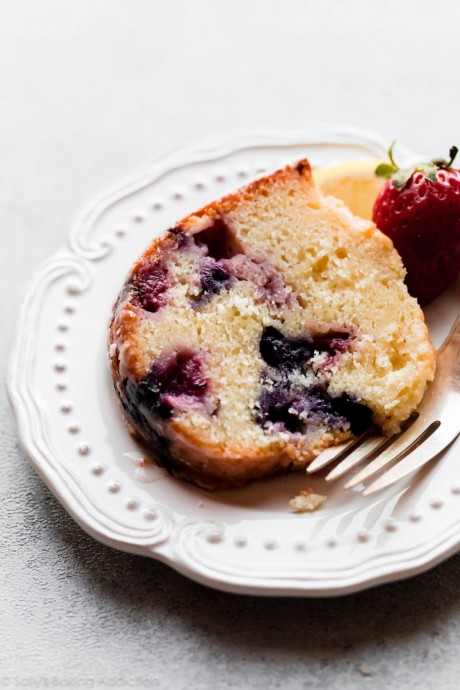 Unlike any other cake I've baked, this incomparably moist lemon berry yogurt cake has a soft, creamy, and buttery crumb. Lightly flavored with fresh lemon and bursting with Greek yogurt and mixed berries, it's a generous drop of sunshine in a bundt cake pan. It's been dubbed one of the best desserts I've ever made.
Why you'll love this lemon berry yogurt cake! It's supremely moist (other cakes don't even compare). Soft and almost creamy-tasting crumb! Made with 1 cup of Greek yogurt and fresh flavors. Filled with tart lemon and sweet berries. It's also convenient– use fresh or frozen berries. And as a welcome bonus, there's no complicated decorating required. Let the cake cool and drizzle with lemon glaze. A natural beauty!
This yogurt cake tastes creamy. I'm not even sure how that's possible, but the crumb is so luxuriously soft, silky, and buttery. You'll get a lovely preview of its texture when you experience the massive creaminess of the cake batter. Greek yogurt is a workhorse and when paired with cake flour and butter, it truly takes cakes to a whole other level.
Ingredients:
3 cups (360g) cake flour
1 and 1/2 teaspoons baking powder
1/2 teaspoon baking soda
1 teaspoon salt
1 cup (240g) plain Greek yogurt, at room temperature
2 teaspoons lemon zest
1/3 cup (80ml) fresh lemon juice
1 cup (230g; 2 sticks) unsalted butter, softened to room temperature
2 cups (400g) granulated sugar
1 and 1/2 teaspoons pure vanilla extract
3 large eggs, at room temperature
2 cups (325g) mixed berries, fresh or frozen (do not thaw)
Lemon Glaze
1 cup (120g) confectioner's sugar
3 Tablespoons (45ml) fresh lemon juice
1/4 teaspoon pure vanilla extract