Baked Brie en Croûte with Honey, Dried Cherries, Rosemary & Pecans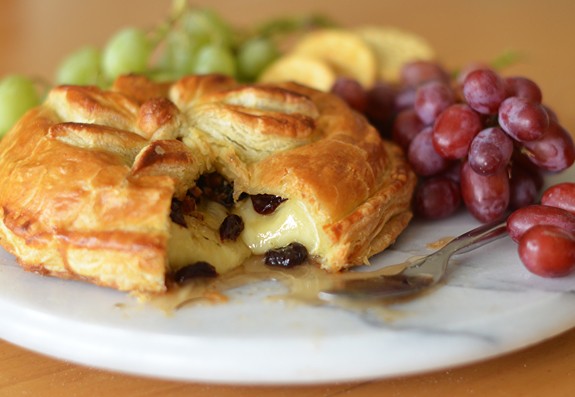 When it comes to festive appetizers, you can never go wrong with baked brie en croûte, or brie baked in a pastry crust. This version with warm brie, honey, dried cherries, and pecans encased in puff pastry is my favorite rendition — and thanks to store-bought puff pastry, it's just as easy to make as it is impressive.
While most baked brie recipes call for wrapping one large sheet of puff pastry around the cheese, resulting in a thick and doughy bottom layer that doesn't cook through, I sandwich the brie between two smaller pieces of puff pastry and crimp the edges with a fork. This both seals in the cheese and creates even top and bottom layers, which puff up and form a flaky, golden crust all around.
Made with store-bought puff pastry, this baked brie is an easy yet impressive appetizer for a party. You'll love my foolproof technique for wrapping the cheese.
Ingredients:
2 sheets frozen Puff Pastry, thawed
2 tablespoons honey
1/3 cup dried cherries, roughly chopped
1/4 cup chopped pecans
1 teaspoon chopped fresh rosemary
1 (16 oz.) Brie cheese round (about 6-inches in diameter)
1 large egg, beaten with 1 tablespoon water