Snickerdoodle Cookies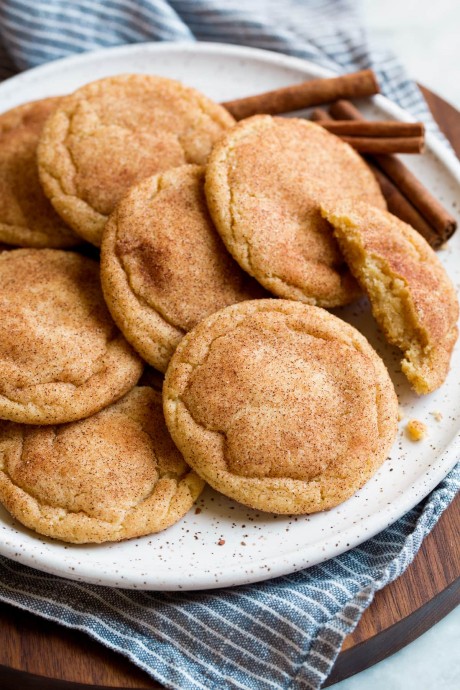 These Snickerdoodle Cookies are so soft, deliciously buttery, they have the perfect amount of sweet cinnamon flavor, and they're super easy to make! This is a must have recipe that everyone will fall in love with. It's just one of those classic treats we'll all remember from our childhood so let's keep those memories going and make them for your friends and family!
Who doesn't get the cookie cravings? When those hit this is the perfect cookie to make, with consistently reliable results.
They have the perfect satisfying flavor with an abundance of tempting cinnamon, the tender texture is spot on what you want in a cookie, and the thickness meets perfectly in the middle. They're deliciously buttery and moist throughout, you won't find a dry bite here. And the level of sweetness is just where it should be. You just have to try these! They're everything look for in a cookie and then some. Plus they're a treat everyone can agree on, kids love these and adults love them just as much. They are just one of those classic desserts that have been around forever and everyone get's excited when the see and smell these aromatic cinnamon sugar coated cookies. You just can't go wrong with a batch of these. Trust me, they'll disappear in no time!
Ingredients:
2 2/3 cups (385g) all-purpose flour, scoop and level to measure*
1 tsp baking soda
3/4 tsp cream of tartar
1/2 tsp salt
1 cup unsalted butter softened
1 cup (200g) granulated sugar
1/2 cup (100g) packed light brown sugar
1 large egg
1 large egg yolk
1 1/2 tsp vanilla extract
2 1/2 Tbsp (35g) granulated sugar
2 1/2 tsp (5g) ground cinnamon