Sour Cream Coffee Cake Muffins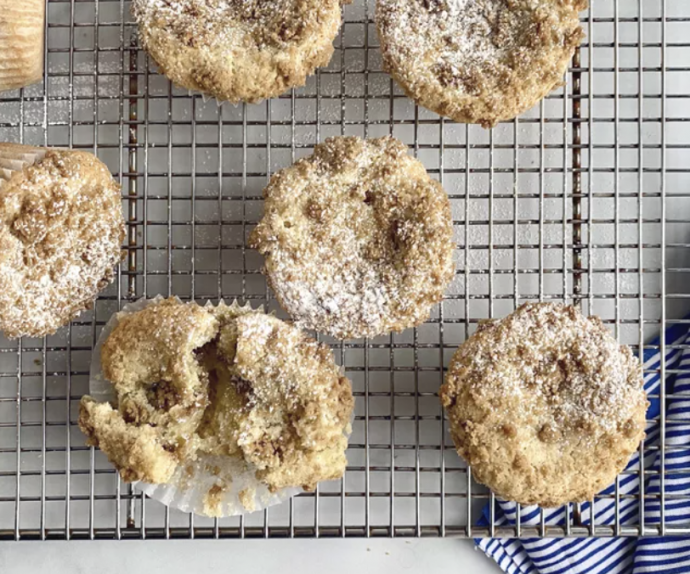 Coffee cake is everybody's favorite breakfast treat and if made into muffins—meaning everyone gets their own individual "cake"—that's even better. These delightful, sweet (but not overly sweet), cuties have the most delicious, slightly sunken, crunchy tops. The crumb topping is made from dark brown sugar and butter and not only tops the muffins, but is also swirled throughout.
These treats might take a tad more time to assemble than your average muffin, due to the swirl and topping, but it is completely worth it. And even though you should absolutely serve these for breakfast or brunch (and be everyone's hero), they are also lovely warmed in the toaster and served à la mode for dessert post-dinner—or really whenever the craving strikes.
The recipe calls for oil, which makes for an ultra-moist muffin and also means they come together quickly. The sour cream adds a wonderful tang and an extra egg yolk makes for the moistest of muffins. As mentioned above, the tops do sink, particularly after they are pulled from the oven, so this is not the muffin you make when you are in search of the perfect "domed" muffin top, but it is the muffin you make when you want something extra special and truly delicious.
Ingredients:
For the Topping:
1/4 cup unsalted butter, melted
1/2 cup all-purpose flour
1/2 cup packed dark brown sugar
1/2 teaspoon ground cinnamon
For the Muffins:
1 1/4 cups granulated sugar
1/2 cup vegetable oil
1 1/2 teaspoons pure vanilla extract
1 large egg
1 large egg yolk
2/3 cup sour cream
1 3/4 cups all-purpose flour
1 1/2 teaspoons baking powder
1/4 teaspoon baking soda
1 teaspoon fine sea salt
1 cup unsifted confectioners' sugar