Easy Tomato Gazpacho Recipe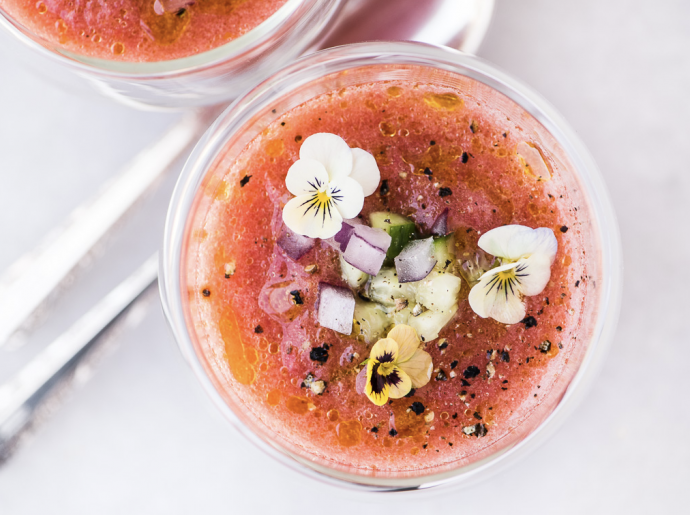 Easy Tomato Gazpacho Recipe ~ everybody needs to know how to make themselves a classic cooling gazpacho when the temperatures soar. This simple chilled Spanish soup is the ultimate refresher.
Forget about eating it during the rest of the year, you can only make and enjoy a truly great gazpacho in the summer. Its charm lies in the exhilarating inverse proportion of sweltering hot (you) to icy cold (it). Think of it this way: if its hot enough to ripen tomatoes on the vine, it's gazpacho time! I make gazpacho out of all sorts of tomatoes, from classic red to colorful heirlooms.
Ingredients:
1 lb ripe tomatoes
1/2 cup roasted red pepper, optional, for added color and flavor
1 5.5 oz can tomato juice, also optional. It adds a more 'tomatoey flavor.
2 Tbsp Sherry vinegar, substitute any vinegar you like
2 Tbsp extra virgin olive oil
juice of 1/2 lemon, optional, taste first
1 tsp salt
1 tsp fresh cracked black pepper
1/4 tsp red pepper flakes
1/2 red onion, finely minced
1 colorful bell pepper, finely minced
about an 8 inch piece of seedless cucumber, finely minced, no need to peel.