Dark Chocolate Orange Biscotti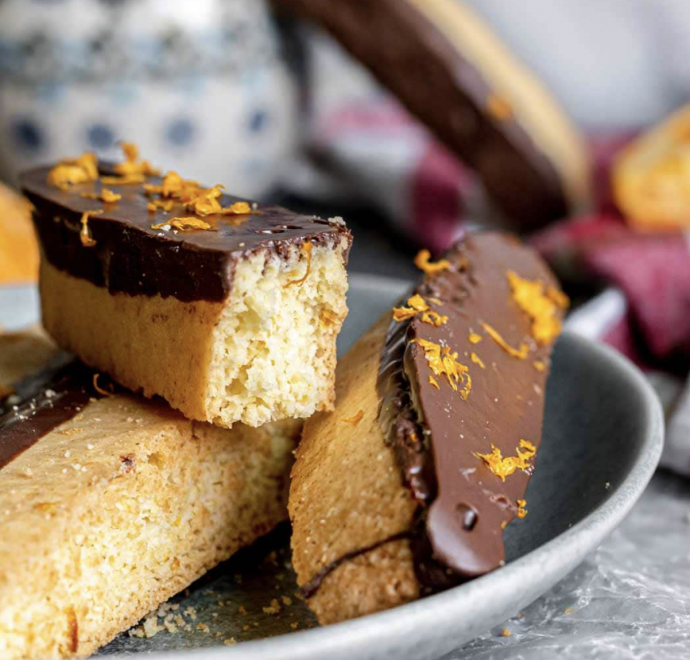 This chocolate-dipped, orange flavored twist on Classic Biscotti is the perfect treat for dunking in coffee at Breakfast, a sweet afternoon Snack, or Christmas Cookie for your holiday gift baskets.
Biscotti is the classic Italian cookie recipe that was made for dipping! Instead of the chewy texture you'll find in most cookies, they have a crumbly, dry consistency that is perfect for soaking up dark coffee or Hot Chocolate. And best of all, because they aren't overly sweet, you won't feel guilty for having cookies for breakfast.
That's right! Even though Biscotti is technically a cookie, they have less sugar and less fat, so you don't have to feel at all guilty for enjoying them with your morning cup of coffee. Of course, this Chocolate Dipped Orange Biscotti recipe has a bit more sweetness than original versions. It's still far less sugary than a cookie though, just sweet enough to double as a dessert without being too indulgent for a sweet breakfast on the go.
Ingredients:
1/2 cup vegetable oil
1 cup white sugar
3 large eggs
1 tablespoon orange zest
3 1/4 cups flour
1 tablespoon baking powder
10 ounces dark chocolate chips