New England Shrimp Rolls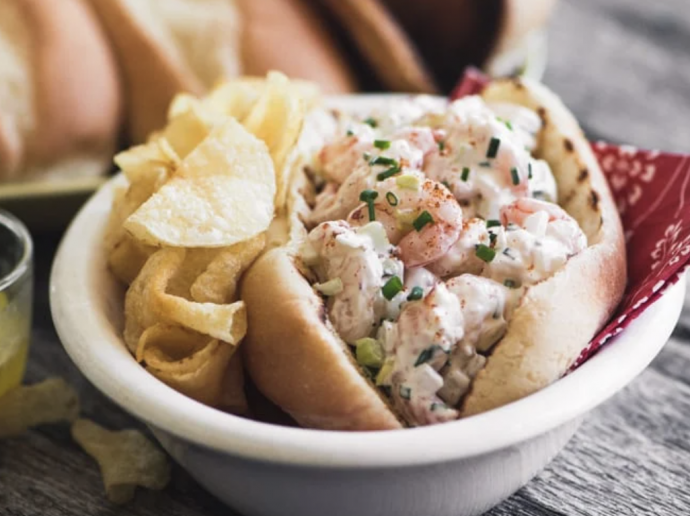 New England Shrimp Rolls are the stuff foodie memories are made of...jumbo chunks of shrimp simply tossed with mayo and lemon and then stuffed into a butter toasted bun ~ life (and lunch!) doesn't get any better.
One of my greatest food memories are the amazing lobster rolls I enjoyed every summer on the coast of Maine. If you've ever spent any time in New England you'll know all about lobster rolls. People look forward to them for months, and they'll drive all day and all night just to satisfy their craving.
I love this meal because I don't have to think very far in advance to get it on the table. If I don't have fresh shrimp, no worries, I always have a bag of frozen peeled and deveined shrimp in the freezer. Fresh shrimp only lasts a day or two, but I can have shrimp at the ready in my freezer for a month or more. And frozen shrimp is often 'fresher' than the so called fresh shrimp in your supermarket. It has been flash frozen right on the boats, and stays that way, while 'fresh' shrimp has been thawed, and you can't be sure how long it's been hanging around.
Ingredients
1 pound fresh or frozen shrimp
1/2 cup mayonnaise
1/4 cup minced onion
1/4 cup minced celery
juice of 1/2 lemon
salt and fresh cracked black pepper to taste
4 hot dog buns
3 Tbsp butter, melted
GARNISH
paprika or Old Bay seasoning
snipped chives