Strawberry Chicken Salad With Champagne Vinaigrette Recipe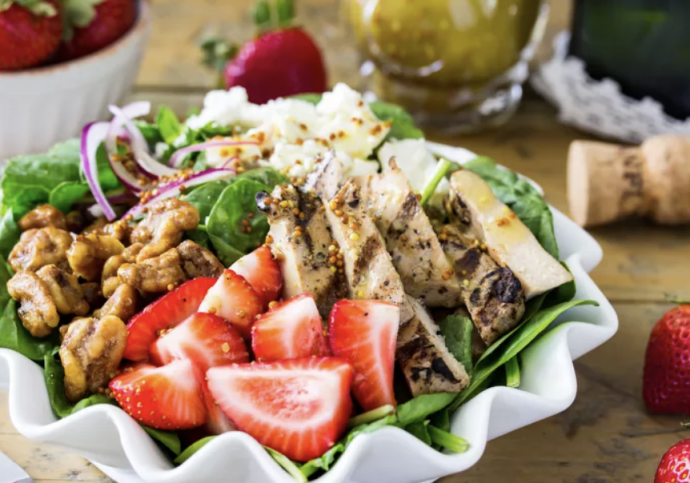 With fresh sweet strawberries, crisp candied walnuts, red onions, feta cheese, and sliced chicken breast served over a bed of greens, this salad is a perfect summertime (or anytime!) staple. It's light, refreshing, and becoming an increasingly popular salad. However, what really sets this particular strawberry chicken salad apart from the crowd is its champagne vinaigrette dressing.
The dressing sounds fancy and tastes exquisite, but it's actually surprisingly simple to mix together and prepare. For best results, combine all ingredients in a Mason jar or other container with a resealable lid, close the lid tightly, and shake well until all ingredients are well-combined. Alternatively, you could whisk everything together in a small bowl, but I like this mason jar method best. It also serves as a simple way to store any leftover dressing you might have (and cuts down on dishes, which is always a win!).
This strawberry chicken salad is great with precooked or leftover chicken, or you can grill or bake chicken breasts specifically for this recipe. Instructions for doing so are included at the end of the recipe.
Ingredients
For the Dressing:
1/3 cup extra-virgin olive oil
1/4 cup champagne vinegar
2 tablespoons whole grain Dijon mustard
1 tablespoon lemon juice, freshly squeezed
2 tablespoons honey
1/2 teaspoon salt
1/4 teaspoon freshly ground black pepper
1/4 teaspoon garlic powder
For the Salad:
9 ounces cooked chicken, about 3 cups chopped
5 ounces baby spinach and kale mix
8 ounces strawberries, tops removed and quartered
1 cup glazed walnuts
1 cup feta cheese
1/3 cup finely chopped red onion