Chocolate Raspberry Cupcakes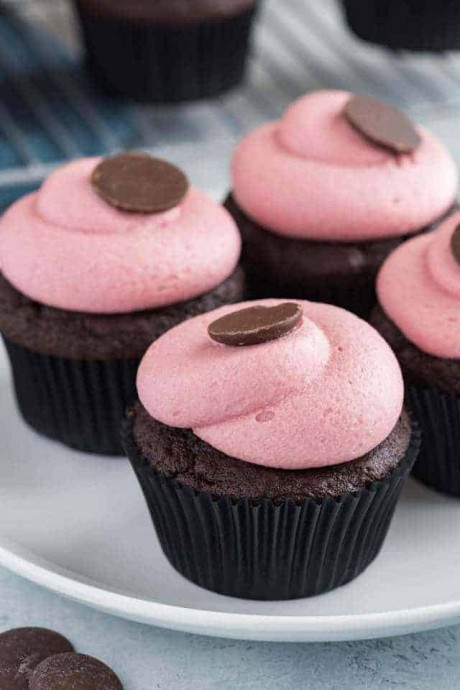 Chocolate Raspberry Cupcakes are a mouthful of deliciousness. Rich, moist decadent chocolate cupcakes topped with a luscious raspberry buttercream frosting, these cupcakes are just the thing you need to satisfy those dessert cravings.
The dry ingredients are your basic ingredients: flour, baking powder, baking soda, and salt. To this, I also sift in some unsweetened cocoa powder. Like I mentioned before, these chocolate cupcakes are rich and decadent. After combining the wet and dry ingredients, add buttermilk and strong brewed cold coffee. I love to use coffee in my chocolate cake recipes, but you can omit this and use more buttermilk in its place.
This recipe makes between 12 and 14 regular size cupcakes, and they take around 20 minutes to bake. It's all very easy. The raspberry buttercream frosting is just perfect here. I used a large open round piping tip to frost the cupcakes, but you can frost them however you like! For a finishing touch, I topped the cupcakes with a chocolate wafer, so they'd look just like the ones I had on the ship. These homemade chocolate raspberry cupcakes come together in less than an hour. If you're in a rush, pop the freshly baked cupcakes into the refrigerator to cool. Enjoy!
Ingredients:
For The Cake
1 cup all-purpose flour
⅓ cup unsweetened cocoa powder
1 teaspoon baking soda
½ teaspoon baking powder
½ teaspoon salt
3 ounces unsweetened chocolate, coarsely chopped
⅓ cup unsalted butter, melted
2 tablespoons vegetable oil
¾ cup granulated sugar
2 large eggs
1 tablespoon vanilla extract
½ cup buttermilk
¼ cup strong brewed coffee, cooled
For The Frosting
1 cup unsalted butter, softened
2 tablespoons heavy cream
2 teaspoons vanilla extract
¼ teaspoon salt
3 ½ cups confectioners' sugar
½ cup raspberry preserves or jam
chocolate wafers for garnish