Vegan Caramelized Onion & Spinach Pizza Rolls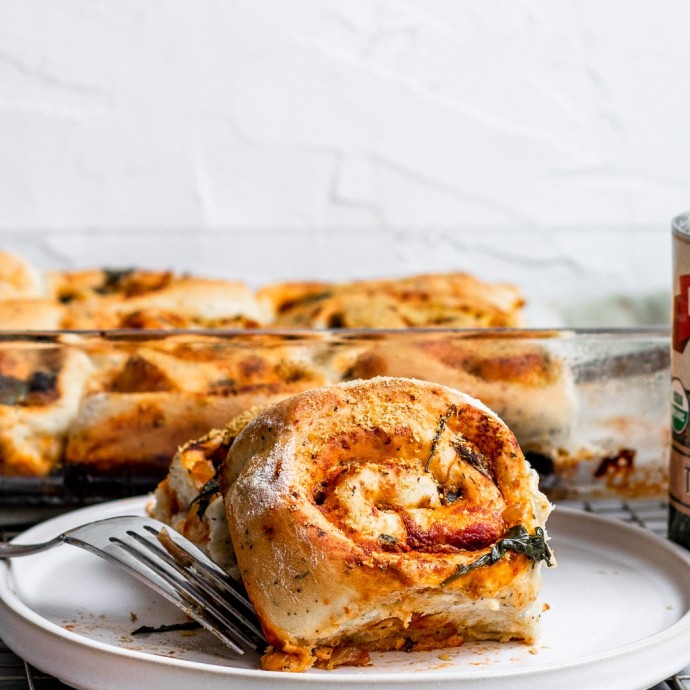 Who is ready for vegan pizza rolls?! I know I've been teasing you all with a more savory bun recipe for a while now, so I am overly excited to share this recipe for Vegan Caramelized Onion & Spinach Pizza Buns with you today!
The key to making this vegan pizza dough at home is to let it rise covered in the fridge for 24-48 hours. This allows the yeast to slowly ferment and brings out the best flavor in the dough. If you don't have time for that, letting the dough rise until doubled at room temperature still works (and it takes about 2 hours), but the flavor of the dough won't be quite as good. If making homemade pizza dough a day or two ahead of time sounds like too much work, that's okay! A store-bought pizza dough works just as well and is a great replacement for these dairy-free pizza rolls. Also, store-bought or homemade gluten-free pizza dough will work in this recipe to make it entirely gluten-free.
Ingredients:
Pizza Dough Ingredients
1 cup warmed almond milk (or other vegan milk)
2 Tbsp sugar
2 ¼ tsp active dry yeast (1 standard packet, 7 grams)
¼ cup oil (olive or avocado oil recommended)
1 tsp dried oregano
1 tsp garlic powder
1 tsp dried basil
3 cups all purpose flour (375 grams)
1.5 tsp salt
Caramelized Onions & Spinach
1 large onion, sliced
4 cups spinach, loosely packed
2 Tbsp vegan butter/ cooking oil
salt & pepper to taste
Bun Filling
⅔ cup Muir Glen Tomato Sauce
8-10 leaves fresh basil, torn
1-2 Tbsp nutritional yeast (optional)