Strawberry Shortcake Ice Cream Cake Recipe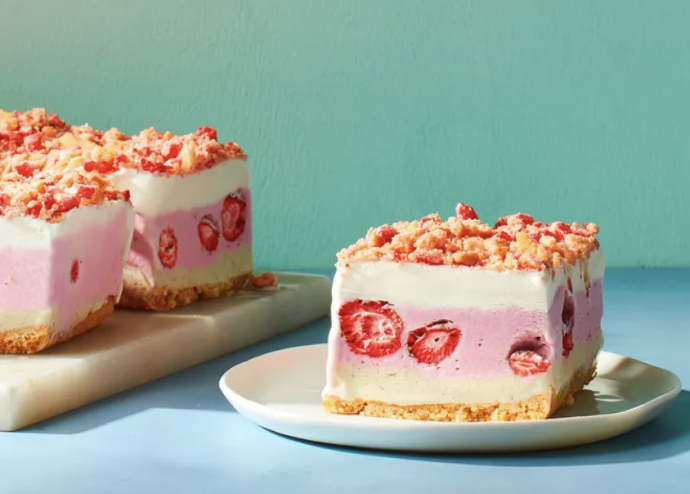 This strawberry shortcake ice cream cake tastes just like a sliceable and shareable version of the classic Good Humor ice cream bar. You will love the delicious bits of strawberry crunch crumbles on top.
Extra strawberry flavor is infused into every piece by using freeze-dried strawberries two different ways. First, the freeze-dried strawberries are folded into the strawberry ice cream layer of the cake. They are also crushed along with butter cookies to create the strawberry crunch crumble that is sprinkled on top.
Strawberry shortcake ice cream cake is perfect for entertaining during the warm summer months because the entire dessert can be prepared in advance and stored in the freezer until ready to slice and serve. It's the perfect combination of cool, rich, creamy, and crunchy.
Ingredients:

For the Crust and Filling:
30 crisp butter cookies
2 ounces (4 tablespoons) melted unsalted butter
3 cups softened vanilla ice cream
5 cups softened strawberry ice cream
1 cup freeze-dried strawberries
1 (8-ounce) carton frozen whipped topping, thawed
For the Strawberry Crunch Crumble:
15 crisp butter cookies
3/4 cup freeze-dried strawberries