Baked Cashew Crusted Chicken Tenders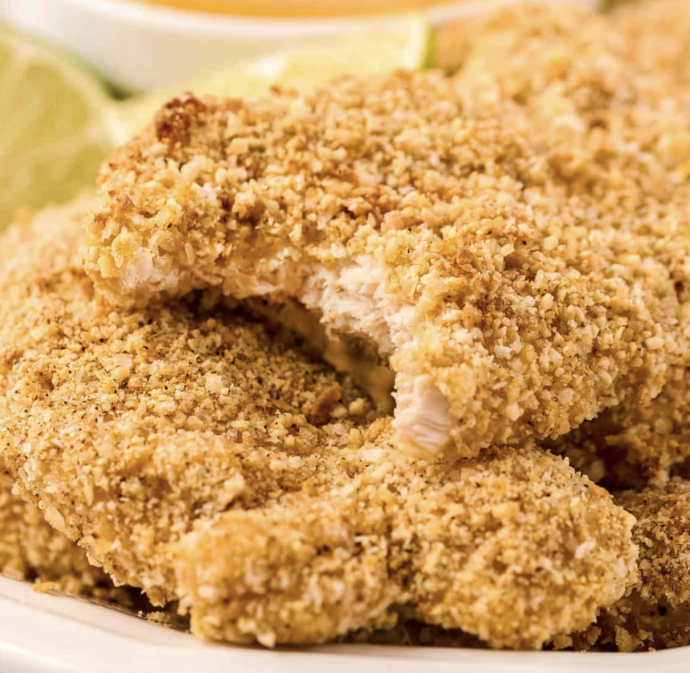 These chicken tenders are crusted in an incredible cashew/coconut coating, and dipped in a simple, yet oh so delicious, fiery mango dipping sauce. Baked instead of fried, this easy chicken recipe is perfect for a weeknight meal!
If you have kids, you know that for them, chicken tenders are basically an entire food group. But chicken tenders are definitely not just for kids… especially when they've been crusted in a mouthwatering breading.
And let me tell you, once you've tried chicken tenders that have been crusted in cashews and coconut… you'll never want to go back to plain breadcrumbs again.
Plus, these are baked in the oven, instead of fried, so you can feel good about sharing these with your family… or indulging in a big 'ol plate yourself.
Ingredients:
Chicken Tenders
2 lbs chicken tenders or chicken breasts cut into strips
2 large eggs
1 Tbsp lime juice
3/4 cup flour
1 cup cashews
1/2 cup sweetened coconut flakes
1 cup panko bread crumbs
1 Tbsp brown sugar optional
1 1/2 tsp garlic powder
1 tsp dried minced onion
1 tsp ground cumin
1 tsp salt
1/2 tsp black pepper
1/4 tsp cayenne pepper or more to taste
1/4 tsp ancho chipotle chile powder can substitute with regular chili powder
Mango Dipping Sauce
2/3 cup mayonnaise
1/2 cup mango chutney
2 – 3 tsp sriracha sauce