Cinnamon Apple Bars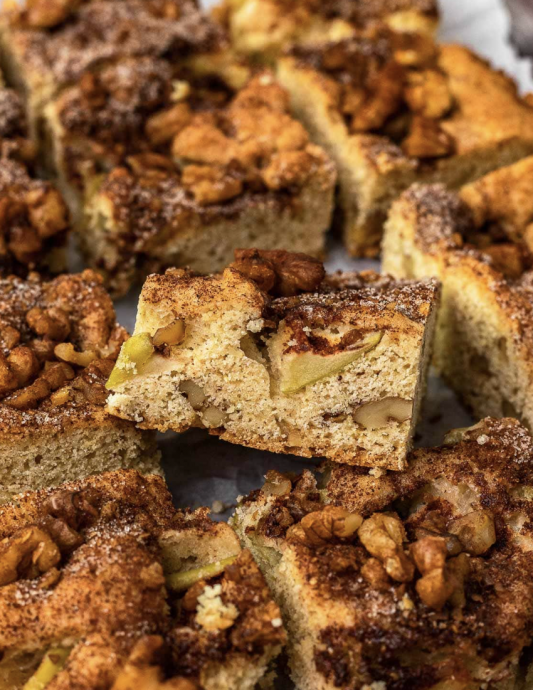 Cinnamon Apple Bars are the perfect Autumn treat with apples mixed into a buttery base and topped with a walnut and cinnamon-sugar mixture.
These simple apple squares are perfect for when you're craving a baked apple dessert, but don't want all the work of baking a pie. You get the amazing spiced apple flavor with a simple, buttery, brown sugar bar base, and it's all finished with cinnamon sugar and walnuts for a sweet and crunchy topping. They are an easy fall treat perfect for snacking throughout the week.
If you're looking for a dessert that's easy and delicious, with tons of fall flavor, you are going to love these delicious Cinnamon Apple Bars. The instructions are super simple to follow, starting with a buttery sweet batter made with brown sugar and white sugar. Some sweet, fresh apple pieces and a handful of the walnuts get folded into the batter then poured into a pan. Top it off with a cinnamon sugar walnut mixture for some crunch then you pop it in the oven.
Ingredients:
1/2 cup butter , softened
3/4 cup brown sugar , packed
3/4 cup sugar
2 large eggs
2 teaspoons vanilla extract
2 cups flour
2 teaspoons baking powder
1/2 teaspoons salt
1/2 teaspoon ground cinnamon
2 green apples , cored and chopped
3/4 cup walnuts , finely chopped (divided)
2 tablespoons white sugar
2 teaspoons ground cinnamon