Mediterranean Orzo Salad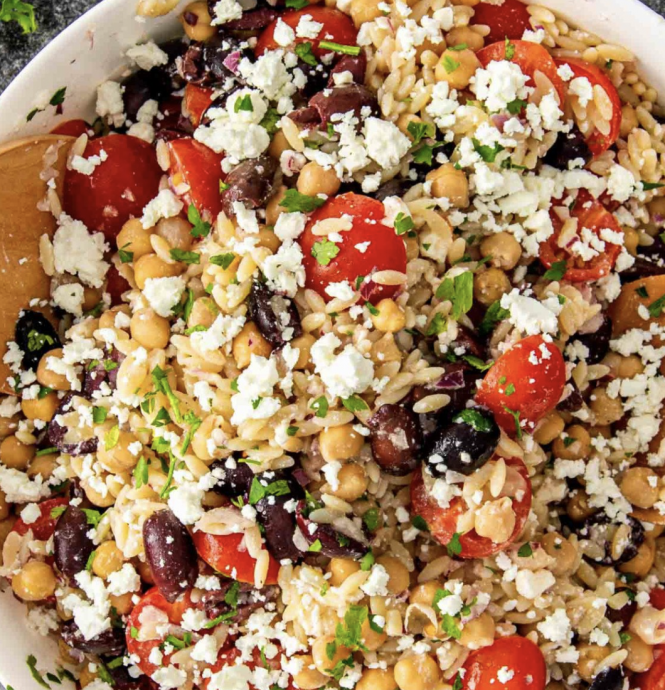 Escape to the sunny shores of the Mediterranean with this easy, vibrant Mediterranean Orzo Salad! Bursting with fresh flavors, it's an effortless dish that will make your taste buds dance and your kitchen time minimal because it's ready in just 20 minutes!
This salad is perfect as a side dish, or enjoyed on its own. I packed this salad with lots of good for you ingredients like chickpeas, cherry tomatoes, feta cheese and one of my favorite ingredients ever, Kalamata olives. The dressing is really great as well and it couldn't get any simpler with some super basic lemon juice and olive oil, a little bit of garlic and the perfect touch of seasoning.
Ingredients:
For the Dressing
¼ cup lemon juice (freshly squeezed)
⅓ cup olive oil
1 clove garlic (minced)
¼ teaspoon salt (or to taste)
⅛ teaspoon pepper (or to taste)
For the Salad
1 cup orzo (dry)
19 ounce chickpeas (1 can, drained)
2 cups cherry tomatoes (cut in half)
1½ cups Kalamata olives (pitted and cut in half)
1 cup feta cheese (crumbled)
¼ cup fresh parsley (chopped)
1 medium red onion (chopped)