Burst Tomato Pappardelle with Zucchini, Sweet Corn, and Pan-Fried Chicken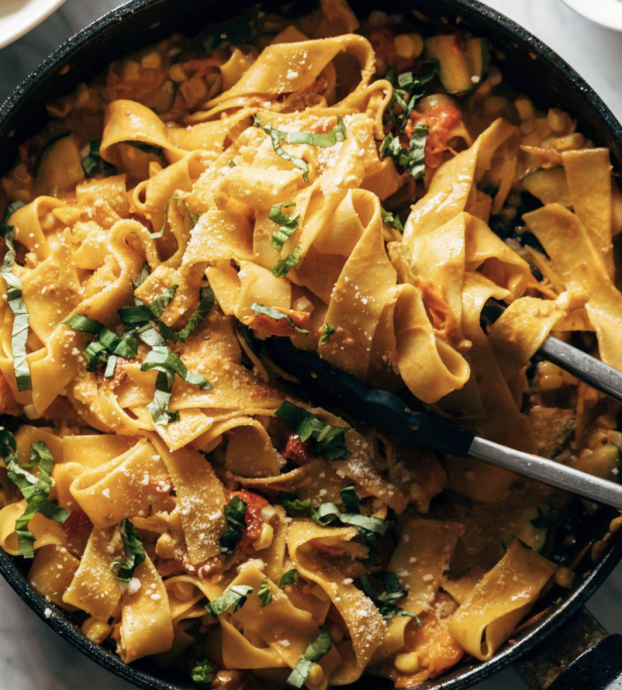 Meet your next fave summertime pasta! Egg pappardelle tossed in a luscious cream sauce with fresh, bursty summer veg and the best crispy pan-fried chicken.
Do you know what's never not delicious? Even in the heat of summer?
Noodles.
And if you should find yourself, sometime in the next week or so, making a rustic garlicky burst-tomato cream sauce speckled with fresh summer sweet corn and CSA zucchini, tossing it with some hot pappardelle, and making a perfect little bed where you can place a piece of juicy pan-fried chicken only to top it all with Parmesan and basil… well, then, this summer is looking good for you.
Ingredients:
For the Chicken:
1 lb. boneless skinless chicken breasts, cut thin or pounded a bit so they cook quicker and more evenly
1/2 cup flour in a bowl with plenty of salt and pepper
1 tablespoon DeLallo Private Reserve Extra Virgin Olive Oil
1–2 tablespoons butter
For the Pasta and Sauce:
one 8.8 ounce package of DeLallo Egg Pappardelle
1–2 cups cherry tomatoes
1–2 cup sweet corn, cut off the cob (about 2 ears)
1–2 cups zucchini half-moons (about 1 small zucchini)
2 cloves minced garlic
juice of 1 lemon
salt to taste
1/2 cup heavy cream
1/4 cup Parmesan and/or 1/4 cup basil for topping