Baked Balsamic Bruschetta Chicken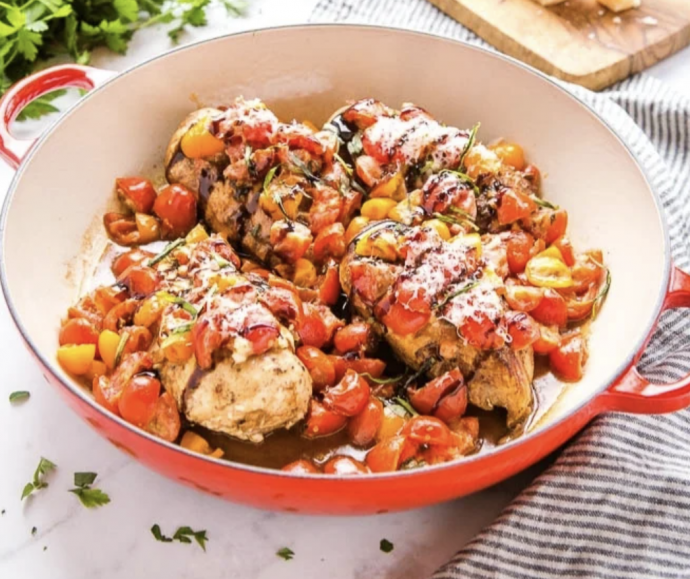 This Baked Balsamic Bruschetta Chicken is a delicious low carb main dish made in one pan in under 35 minutes! Juicy chicken breasts, fresh tomatoes, parmesan, and balsamic glaze.
I don't know about you, but I love colourful food any time of year. This Balsamic Baked Bruschetta Chicken is as delicious as it is colourful, and it's packed with fresh tomatoes and topped with fresh parmesan and balsamic glaze. If you're looking for a low carb main dish that's ultra satisfying, this is it!
Ingredients:
FOR THE CHICKEN AND MARINADE:
5 chicken breasts
4 tablespoons olive oil
2 tablespoons balsamic vinegar
1/2 teaspoon salt
1/2 teaspoon pepper
2 cloves garlic finely minced
FOR THE BRUSCHETTA TOPPING:
1 pound fresh cherry tomatoes chopped
3 cloves garlic finely minced
2 teaspoons fresh basil (or used 1 teaspoon dried basil, if desired)
1/2 cup grated parmesan cheese
a pinch or two of salt and pepper
FOR SERVING:
balsamic glaze or balsamic vinegar, and grated parmesan cheese for serving (optional)