Easy Homemade Blueberry Muffins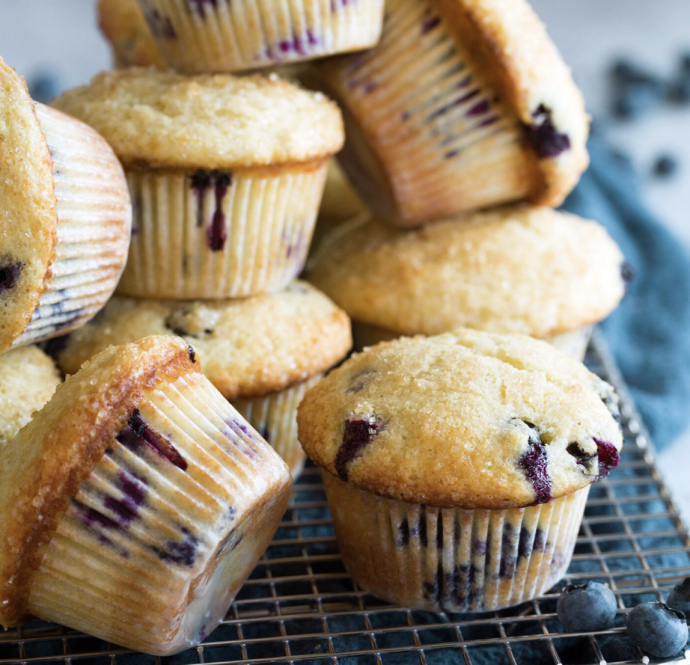 Easy Blueberry Muffins – A buttery and tender, tall, bakery style muffin that's brimming with fresh blueberries, and finished with a sprinkle of crisp sugar. They're always an irresistibly delicious breakfast treat!
These easy blueberry muffins are fast to make, they don't require a mixer, and they're basically foolproof. And I should mention they are a generous sized muffin with towering domed muffin tops and beautiful golden brown edges. The best kind of muffins!
Perfect for a weekend breakfast, a celebratory brunch or they could even pass for a tempting birthday treat. They are an excellent way to use up the blueberries in season!
Ingredients:
2 1/4 cups (318g) all-purpose flour (scoop and level to measure)
1 tsp baking powder
1/2 tsp baking soda
1/4 tsp heaping salt
7 Tbsp (99g) unsalted butter, cut into 1-Tbsp pieces
1 cup (200g) granulated sugar
1 cup (235ml) buttermilk, brought to room temperature**
3 Tbsp (45ml) vegetable oil
2 large eggs, brought room temperature*
2 tsp vanilla extract
1 1/2 cups (213g) fresh blueberries***
1 1/2 Tbsp turbinado sugar