Buttery Garlic Cheese Bombs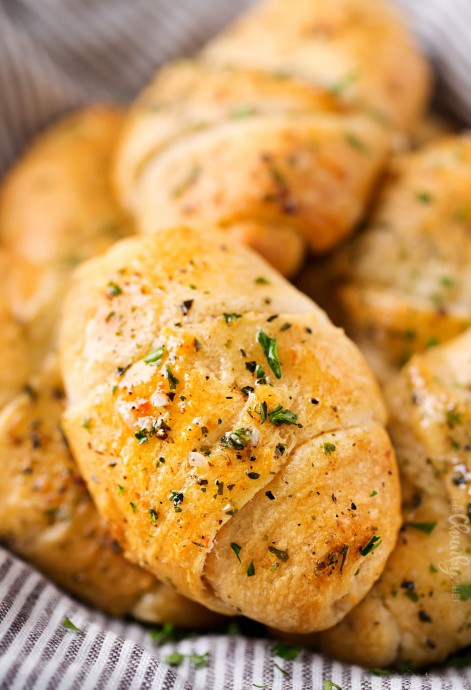 Soon to be a family favorite, these cheesy garlic crescent rolls are made in just 20 minutes and use everyday ingredients! Soft, buttery crescent rolls are brushed with an insanely flavorful garlic and herb butter, baked with gooey mozzarella cheese, and topped off with another brush of the garlic butter! Simply put, you need these crescent rolls in your life!
That's the best part about this recipe (or most cooking recipes actually)… you can totally adjust it to your tastes! We're garlic fanatics here, so I make ours pretty garlicky. To make the garlic pieces small enough (so you're not biting down on a big chunk), I either grate the garlic with my microplane grater, use my garlic press, and sometimes I buy the tubes of garlic paste from my store's produce department. You could also mince away with your knife if you'd like, but the other options are faster. You can add some mini pepperonis and make them pizza flavored, but you could really add just about anything you'd like. Here are a few of my favorites: Pepperoni (mini or regular size work best), Browned Italian sausage, Sauteed onions and peppers, Different types of cheese (any kind you like – although soft cheeses like blue cheese probably wouldn't work too well), Chopped cooked meatballs, Cooked and crumbled bacon. We love to serve these alongside this soup, but they're great served with a fresh salad for a light meatless dinner too!
Ingredients:
2 - 8 oz cans refrigerated crescent rolls
8 pieces mozzarella string cheese, - halved across to make 2 short sticks
6 Tbsp salted butter, - melted
4-5 cloves garlic, grated or finely minced
1 1/2 tsp Italian seasoning
1 tsp dried parsley
1/2 tsp dried basil