Caramel Apple Cookie Cups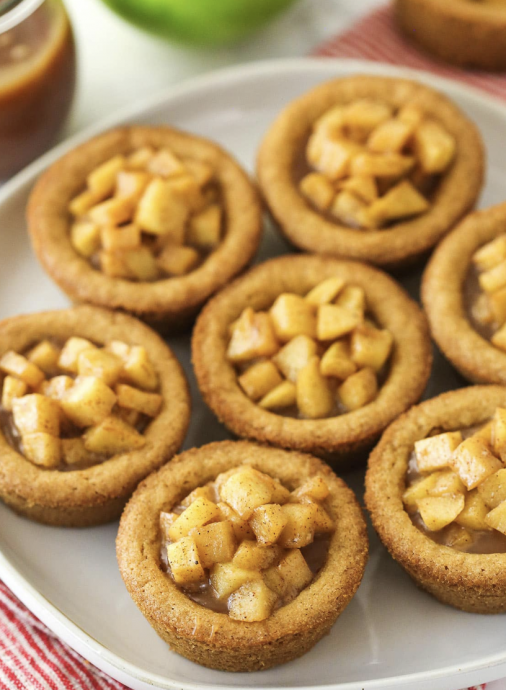 These Caramel Apple Cookie Cups are like mini homemade apple pies in cookie form! Chewy cinnamon brown sugar cookies are baked in a cup shape and filled with homemade caramel sauce and soft cinnamon apples! The perfect fall dessert!
Cookie cups are such a great treat. They're a fun spin on classic cookies that allow you to add more textures, layers and flavors to cookies with ease. All you have to do is spoon your favorite fillings into a deliciously chewy vessel that was just as easy to make as a basic cookie.
And these particular cookie cups are perfect as we move into fall. The cookies themselves are moist and tender, the apples are soft and tender, and the salted caramel sauce is always a hit. The whole thing is spiced with some cinnamon and nutmeg and the final cookie is heavenly. The prefect cross between cookie and pie!
Ingredients:
For the Cookie Cups
2 cups (260g) all-purpose flour
1 tsp baking soda
1 tsp ground cinnamon
2 tsp cornstarch
1/4 tsp salt
3/4 cups (168g) unsalted butter, room temperature
1/2 cup (112g) packed light brown sugar
1/2 cup (104g) sugar
1 large egg
1 tsp vanilla extract
For the Caramel Apple Topping
1 recipe caramel sauce
3 cups (320g) diced apples (2–3 Granny Smith apples)
1 tsp ground cinnamon
Pinch of ground nutmeg
2 tbsp (28g) light brown sugar
2 tbsp (28g) unsalted butter