Salmon Cakes with Lemon Dill Yogurt Sauce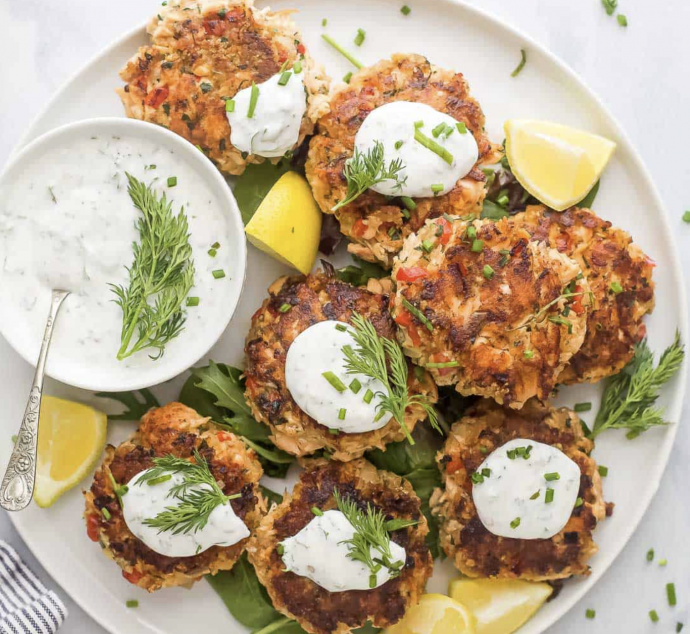 Drizzled with lemon dill yogurt sauce for a bit of brightness, these easy Salmon Cakes are little patties of protein-packed goodness. Ready in only 30 minutes, they'll be the star of your dinner menus and meal-prep days from now on.
Made with fresh salmon these salmon cakes with homemade lemon dill sauce are the 30-minute recipe you need after a long day of work. Prepared in advance for the easiest dinner ever, these juicy patties will add a punch of flavor to your day.
Sharp, spiced, and slightly smokey from a bit of Dijon, each bite is definitely something to look forward to. Best of all, you don't even have to reheat them, although I like them better warm. Dressed with a quick yogurt sauce, they go from great to amazing in a second. Plus, the herbs add a refreshing touch and make them look super pretty.
Ingredients:
Salmon Cakes:
1 lb. salmon
salt & pepper
1/2 teaspoon smoked paprika
1 tablespoon avocado oil
1/2 red pepper, diced
1 shallot, diced
1 garlic clove, minced
1/2 cup gluten-free panko
1/3 cup mayonnaise
1.5 tablespoon dijon mustard
1/4 cup fresh parsley, chopped
1 tablespoon lemon juice
1/2 teaspoon garlic powder
2 tablespoons unsalted butter
Lemon Dill Yogurt Sauce:
5.3 oz. plain greek yogurt
1 – 1.5 tablespoons of fresh lemon juice
1 garlic clove, minced
1.5 tablespoons fresh dill, chopped
1 tablespoon chives, chopped
1/8 teaspoon red pepper flakes
salt & pepper to taste