Peach and Blueberry Galette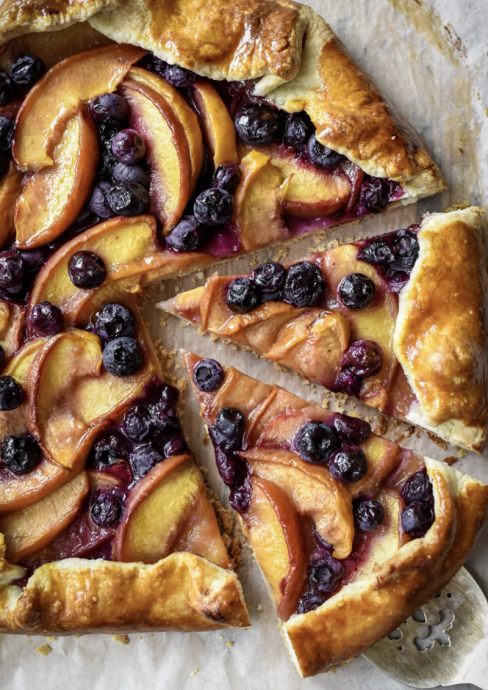 A Galette, or a "Tarte Rustique" as we call it in France, is one of the easiest ways to showcase Summer fruits at their prime – and this Peach and Blueberry Galette is a perfect example of it. This rustic fruit tart features a flaky all-butter crust, folded in a free form manner over ripe Summer fruits. It is an uncomplicated dessert to make during these late-Summer nights, and it doesn't require much time to assemble. A dollop of whipped cream or a scoop of vanilla ice-cream on top will make it even more irresistible.
Ingredients:
For the Pâte Brisée :
1 1/2 cups (188g) all-purpose flour
¾ cup (170g) cold unsalted butter, cut into small cubes
1/4 teaspoon salt
¼ cup to 1/3 cup (50ml to 78ml) ice water
Filling base:
3 tbsp (23g) all-purpose flour
3 tbsp (18g) ground almonds
Filling:
1 lb (453g) peaches, halved and pitted
1/3 lb (150g) blueberries
¼ cup (50g) sugar
1 tsp vanilla extract
1 egg yolk, for brushing
Optional: 2 tbsp Peach jam.