Vegan Date Cake With Caramel Sauce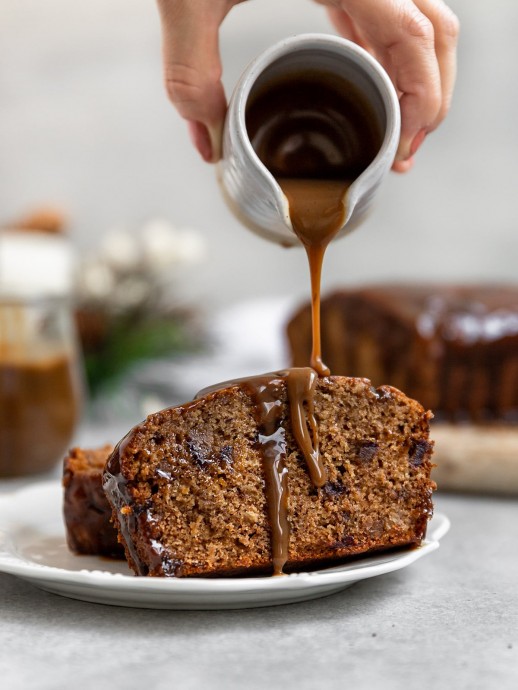 This Vegan Date Loaf Cake is SO moist, perfectly sweet thanks to the Medjool dates, and topped with a delicious & homemade salted caramel sauce!
If you've never tried dates in a cake, let me tell you, you've been missing out. Actually WE have been missing out because this is my very first eggless date cake!
The most fun part about this cake is it really was created by YOU. I asked you all on Instagram what type of cake this should be and what the topping should be and we ended up with a loaf cake and a salted caramel topping. Well, clearly you all know what you're talking about because this combo is insanely good.
Plus, when we add that salted caramel sauce on top this goes from being a sticky date cake to a vegan sticky toffee pudding that resembles the traditional Delicious dessert many of you grew up eating- but without any eggs or dairy needed!
Ingredients:
1 cup (125 grams) pitted Medjool Dates (chopped)
1 cup water
½ tsp baking soda
½ cup (118 ml) oat milk
⅓ cup (70 grams) brown sugar
¼ (59 ml) cup oil
1 ½ cup (188 grams) all-purpose flour
2 tsp (10 grams) baking powder
1 ½ tsp (3 grams) ground cinnamon
½ tsp salt (3 grams)
¼ cup vegan salted caramel