Roasted Red Pepper and Tomato Soup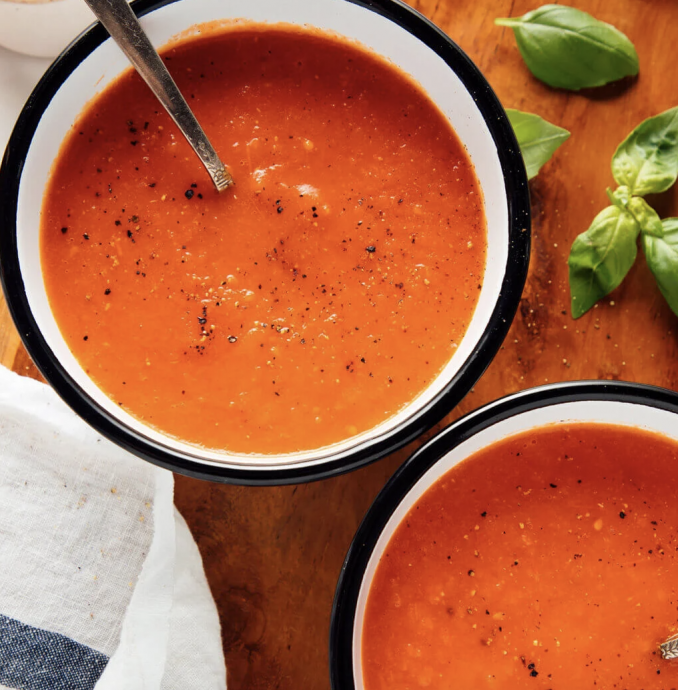 This roasted red pepper and tomato soup is more than just a recipe—it's a celebration of the end of the summer heat. It's the option in between gazpacho and creamy tomato soup. As the temperature finally calms down, I implore you to make this soup with the last ripe bell peppers and tomatoes.
This lovely, light soup is slightly spicy. It tastes more strongly of roasted red peppers than tomatoes, and the light smokiness brings Spanish cuisine to mind. It's vegan as written, though you certainly add cream for a creamier soup. Perhaps the best thing about this soup is that it freezes well for later.
Ingredients:
8 to 9 medium tomatoes (about 5 pounds), cored and quartered
3 red bell peppers (about 1 pound), seeded and quartered
2 small yellow onions, cut into wedges about ¾" wide on the outer edges
2 tablespoons extra virgin olive oil, divided
6 cloves garlic, unpeeled
4 cups (32 ounces) vegetable broth
¼ teaspoon smoked paprika
Pinch of cayenne pepper (omit if sensitive to spice)
Fine salt and freshly ground black pepper, to taste