Roasted vegetable enchiladas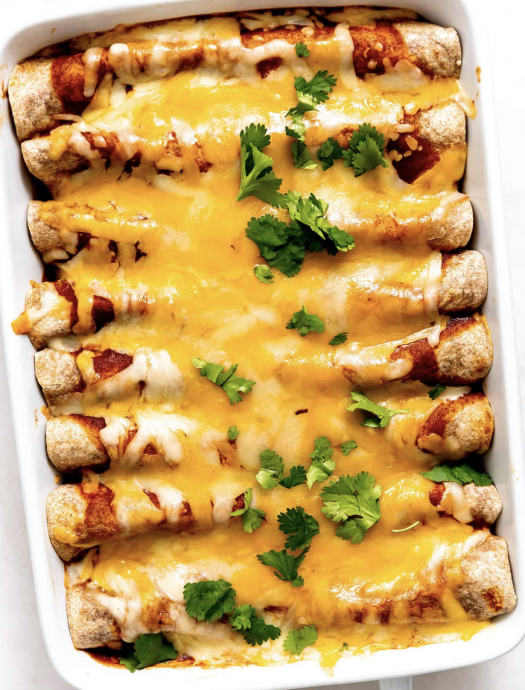 This roasted vegetable enchiladas recipe is easy to customize with your choice of veggies and baked to delicious cheesy perfection.
Here are a few quick notes about the ingredients you will need to make this vegetarian enchilada recipe:
Veggies: I used a mix of baby bella mushrooms, bell pepper, cauliflower, red onion, zucchini and sweet potato in the batch shown here, all roughly diced into similarly-sized pieces. But feel free to swap in any other roasting-friendly veggies you have on hand, such as asparagus, broccoli, Brussels sprouts, carrots, corn, eggplant, green beans, leeks, parsnips, potatoes, tomatoes, or yellow squash.
Beans: I like adding a can of beans to the filling mix for extra protein, usually black beans or pintos, rinsed and drained.
Cheese: I generally use Mexican-blend shredded cheese for enchiladas, but chihuahua, Monterrey Jack, or pepper jack would be great options too.
Ingredients:
1 small zucchini or yellow squash, cut into 1/2-inch pieces
1 red bell pepper, cut into 1/2-inch pieces
1 small red onion, roughly chopped
1 small sweet potato, cut into 1/2-inch pieces
1 small head cauliflower, cut into small florets
8 ounces baby bella mushrooms, quartered
2 tablespoons olive oil
fine sea salt and freshly-ground black pepper
1 1/2 cups red enchilada sauce, homemade or store-bought
8 whole wheat tortillas
1 (15-ounce) can black beans, rinsed and drained
3 cups Mexican-blend shredded cheese
garnishes: fresh cilantro, avocado, Mexican crema or crumbled cotija cheese