Mediterranean Chicken Bowl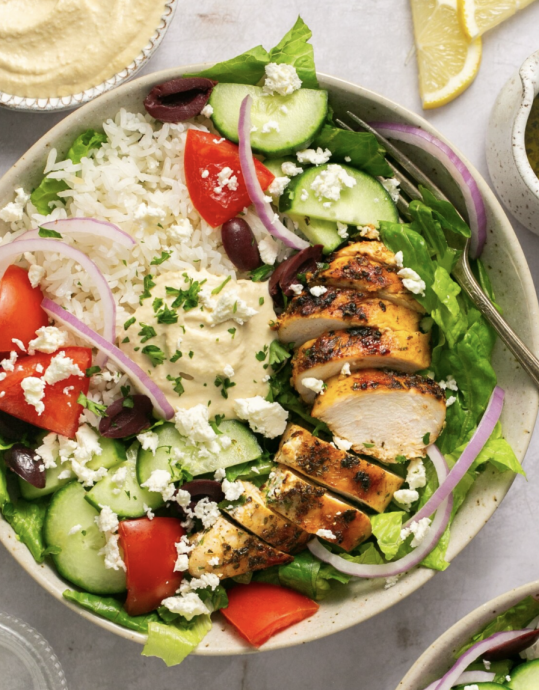 Indulge in the vibrant flavors of the Mediterranean with this Greek Inspired Mediterranean Chicken Bowl. Tender, marinated chicken pairs perfectly with a zesty homemade hummus and a refreshing Greek salad, all served on top of rice to complete the dish.
Substitution
Vegetarian Mediterranean Bowl: Skip the chicken and focus on the rice, hummus, and Greek salad. Add grilled vegetables like zucchini, eggplant, and bell peppers for a hearty vegetarian option.
Mediterranean Shrimp Bowl: Replace the chicken with grilled or sautéed shrimp seasoned with Mediterranean spices for a seafood twist.
Quinoa Instead of Rice: Swap out the long-grain rice for cooked quinoa for a protein-packed and gluten-free alternative.
Different Greens: Experiment with different types of greens like spinach, arugula, or mixed greens for the salad base.
Additional Toppings: Enhance your Mediterranean bowl with toppings like toasted pine nuts, pomegranate seeds, or chopped fresh mint for extra freshness.
Ingredients:
For the rice
2 cups long grain rice
3.5 cups water
2 tablespoons butter
2 teaspoons salt
For the chicken
4 chicken breasts, boneless, skinless
3 tablespoons lemon juice
3 tablespoons olive oil
3 tablespoons parsley, fresh, chopped
3 cloves garlic, crushed in garlic press or finely chopped
1 teaspoon paprika
1/2 tsp oregano, dried
½ teaspoon salt
½ teaspoon pepper
For the hummus
1 cup chickpeas, drained, liquid reserved
2 cloves garlic
1/2 teaspoons kosher salt
1/4 cup tahini, sesame paste
1 lemon, juiced, about 3 tablespoons
1 tablespoon water, or liquid from the chickpeas
For the Greek salad
1 head romaine lettuce, torn into bite-size pieces, washed, and dried
2 tomatoes, cored, seeded, and large dice
1 English cucumber, medium, large dice
1 cup kalamata olives, pitted and halved
1/2 red onion, medium, thinly sliced
3 tablespoons extra-virgin olive oil
2 tablespoons lemon juice, freshly squeezed from 1 medium lemon, plus more as needed
1 1/2 teaspoons oregano leaves, fresh, or 1/2 teaspoon dried oregano
1/4 teaspoon kosher salt, plus more as needed
1/4 cup feta cheese, crumbled