Tasty Kake Peanut Butter Tandy Cake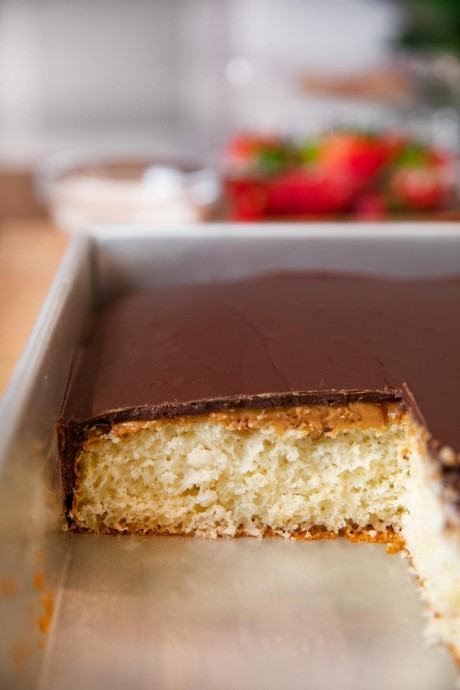 This Tastykake Tandy Cake Copycat is the best recipe for an iconic Philly treat! Easy white sponge cake with creamy peanut butter covered in hard chocolate. Tastykakes, part of the Tasty Baking Company, has been a Philly favorite for snack cakes for over a century! They are slowly making their mark across the rest of the country, but those who grew up on the East Coast have been loving their treats since childhood. To make a Tastykake Peanut Butter Tandy Cake, you'll need a few hours of time, but it's not because it's a hard cake to make. There are three layers to a Tandy Cake, and you need to chill each layer so they stick together. While it might be easier to spread peanut butter on a hot cake, not chilling first will cause the chocolate layer to not meld properly.
This easy sheet pan Tandy Cake recipe is great for parties and potlucks, and is sure to be a crowd pleaser! The tasty cake doesn't need any extra topping, but you can always serve with Whipped Cream or Vanilla Ice Cream on the side. Check out the variations below for more ways to easily change up this recipe to match other Tastykake flavors!
Ingredients:
4 large eggs
2 cups sugar
2 teaspoons vanilla extract
2 cups flour
1 teaspoon baking powder
1 cup whole milk
2 tablespoons unsalted butter
1 1/2 cups peanut butter
2 cups semi-sweet chocolate chips
2 tablespoons shortening