Asian Chicken Salad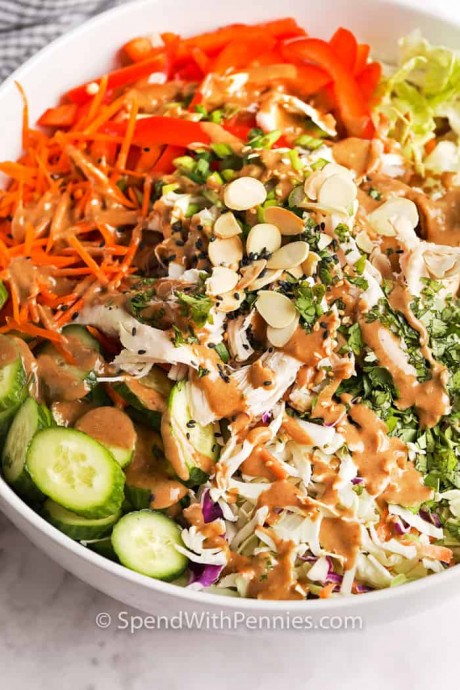 Light, crispy and easy to make, Asian chicken salad is the perfect recipe for a last-minute entrée!
This salad is made with shredded chicken and crunchy cabbage, then topped with a flavorful dressing that brings out the best of the ingredients! It's perfect for a workday lunch or a potluck offering for a crowd!
This salad is fresh and loaded with flavor. It is quick and simple to prepare, and is so versatile!
Asian chicken salad is a great way to use up leftover chicken! The chicken in this dish can be served cold as a chilled salad for warm summer months or add chicken hot off the grill! Using cabbage instead of lettuce in this salad means it keeps well, so go ahead and make it ahead of time. Keep the dressing separate and keep it in the fridge until ready to serve.Refresh the flavors with a dash of salt and pepper and a squirt of lime juice. Serve in place of a lettuce leaf on a hamburger, or scoop it into a wrap! Try putting in on a toasted ciabatta roll for a new twist!
Ingredients:
¾ cup sesame ginger dressing or to taste, or homemade peanut dressing below
4 cups napa cabbage shredded
2 cups green cabbage or coleslaw mix, finely chopped
1 red bell pepper sliced
½ english cucumber sliced
1 large carrot julienned
3 cups chicken cooked shredded
3 green onions sliced
¼ cup cilantro chopped
¼ cup slivered almonds toasted
1 cup crispy wonton strips or chow mein noodles
2 teaspoons sesame seeds