Chili Cheese Fries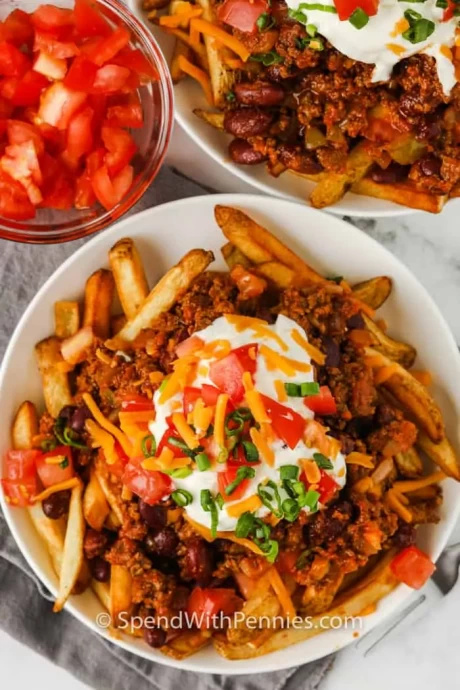 No need to wait for the county fair to indulge in chili cheese fries, they're super easy to make at home! Crispy fries are loaded up with a super quick stovetop chili, lots of cheese, and our favorite toppings! Short on time? We've got you covered, find our fave shortcuts below! This super easy recipe starts with a quick stovetop chili. Ground beef is simmered with kidney beans, a rich tomato sauce, and seasonings. The chili is scooped over a pile of hot, crunchy French fries. Use baked fries, frozen or even air fryer fries.
Skinny, curly fries, or steak fries—the choice is yours! Shredded cheddar cheese and sour cream make this the perfect appetizer for dipping!
Fries – swap homemade fries for frozen fries of any variety. Use the air fryer to make it fast! Chili – use leftover chili to make this recipe fast (or canned chili in a pinch). Cheese – this is one recipe where pre-shredded cheeses work perfectly! For a little bit of a healthy twist, use sweet potato fries, turkey chili, and low-fat cheese. Swap chili for sloppy joe mix (or lentil sloppy joe mix for a veggie version). Trade out the chili for homemade taco meat. These Chili Cheese Fries are cheesy, delicious, and so easy to make!
Ingredients:
1 pound lean ground beef
1 onion finely chopped
½ green bell pepper finely chopped
15 ounces kidney beans drained and rinsed
8 ounces tomato sauce
1 cup beef stock or broth
3 tablespoons tomato paste
1 tablespoon chili powder
2 teaspoons Worcestershire sauce
1 teaspoon garlic powder
¼ teaspoon red pepper flakes
6 cups hot cooked french fries about 32 ounces frozen
4 cups cheddar cheese shredded
sour cream for topping
green onions chopped
tomatoes diced