Crumbl Caramel Cheesecake Cookies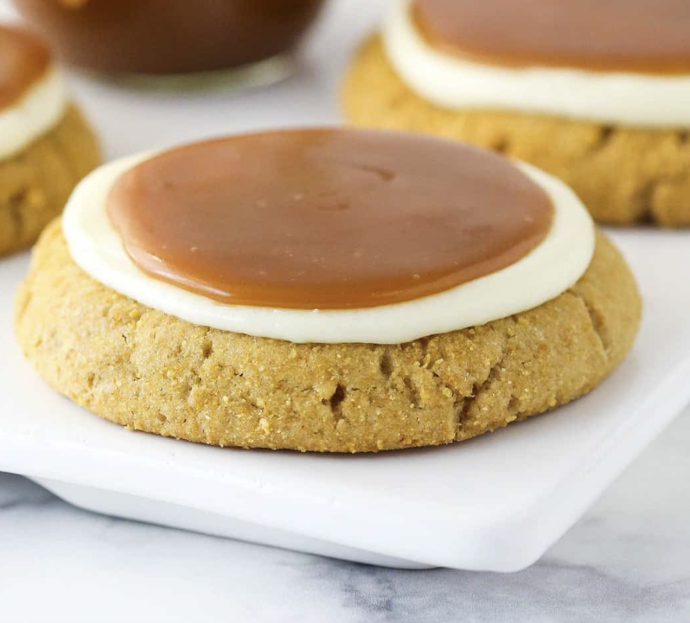 If you're a fan of Crumbl's incredibly soft, chewy cookies, then you're in for a treat! These salted caramel cheesecake cookies take the concept to a whole new level, and they're even better than Crumbl's to-die-for version. Imagine giant graham cracker cookies topped with a tangy cheesecake layer and generously drizzled with salted caramel sauce. These cookies are an absolute delight and are sure to become a new favorite in your cookie repertoire.
Why You'll Love This Crumbl Cookies Copycat Recipe
Recreate the magic: Crumbl has perfected the art of creating delicious cookies, and this recipe aims to capture all those nostalgic flavors, from cheesecake to graham crackers, and the sweet saltiness of caramel.
Irresistible flavor combination: These cookies feature the rich, tangy goodness of cheesecake, paired with the buttery notes of graham crackers and the irresistible sweet-salty taste of salted caramel. It's a winning combination that will satisfy your taste buds.
Perfect texture: Picture a chewy graham cracker cookie base meeting a smooth, creamy cheesecake topping, all crowned with silky caramel sauce. The contrasting textures in these cookies are simply divine.
What You'll Need For the Graham Cracker Cookie:
2 cups (260g) all-purpose flour (measured properly)
1 cup (134g) graham cracker crumbs
1 tsp baking soda
1/2 tsp salt
3/4 cup (168g) unsalted butter, room temperature
1/2 cup (104g) sugar
½ cup (112g) packed light brown sugar
1 large egg
1 tbsp vanilla extract
Additional 1/4 cup (34g) graham cracker crumbs, for rolling
For the Caramel Cheesecake Topping:
Salted Caramel Sauce
10 oz cream cheese, room temperature
1 3/4 cups (201g) powdered sugar
1 1/2 tsp vanilla extract