Cream of Mushroom Soup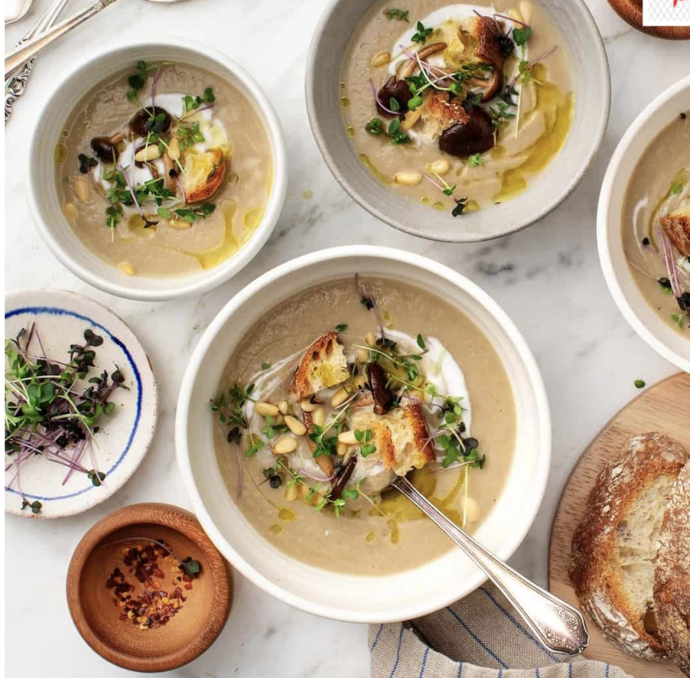 Canned cream of mushroom soup can't compare to this homemade version. It's rich, creamy, and deeply savory. We always go back for seconds!
Warm your soul with this homemade Cream of Mushroom Soup that's rich, creamy, and packed with savory goodness. Forget about the canned version – this soup is the real deal, perfect for cozy winter nights or any time you crave comfort in a bowl.
Introduction: Cream of Mushroom Soup has often been relegated to the role of a supporting character in dishes like green bean casserole. However, it's time to give this delicious soup the spotlight it deserves. This homemade version takes center stage, showcasing the true essence of mushrooms. Whether you're a long-time mushroom enthusiast or just starting to appreciate their flavors, this recipe is bound to make you a fan.
Ingredients:
Mushrooms: Cremini mushrooms (or white button mushrooms) are the star of the show, adding a rich, earthy flavor.
Extra-virgin Olive Oil: For a touch of richness and depth.
Leeks, Celery, and Garlic: These aromatic vegetables contribute to the soup's savory complexity.
White Wine, Tamari, and Balsamic Vinegar: They enhance the umami and tangy notes, elevating the mushroom flavor.
Dijon Mustard: Provides extra tang and a hint of peppery bite.
Thyme: Adds a fresh, aromatic element to the soup.
Vegetable Broth: To create the soup's base, you can use store-bought or homemade.
Cauliflower: The secret ingredient for achieving creaminess without dairy.
Salt and Pepper: To enhance and balance all the flavors.